LG G3 Android 5.0 Update: What to Expect
LG may still be pushing pushing out some minor software updates and tweaks to the LG G3 but an update to Android 5.0 Lollipop is in the works and coming sometime soon. The company hasn't forgot about Android 5.0, and in fact is already pushing it out in select regions.
With LG rumored to have plenty of updates in testing and already pushing LG G3 Android 5.0 updates out in certain small markets, here we want to take a look at what owners can expect from the Android 5.0 update, and when to expect it, at least in the United States.
Read: LG G3 vs Nexus 6: Size Comparison
Back this summer LG released the impressive new LG G3, a phone many expected to be similar to the Nexus 6 this year. However, Motorola made this years Nexus smartphone, vs LG the past two years, and the LG G3 is the company's lone flagship device for 2014. We've seen a few small updates arrive to fix bugs and prepare for Lollipop, and we're expecting it to arrive rather soon.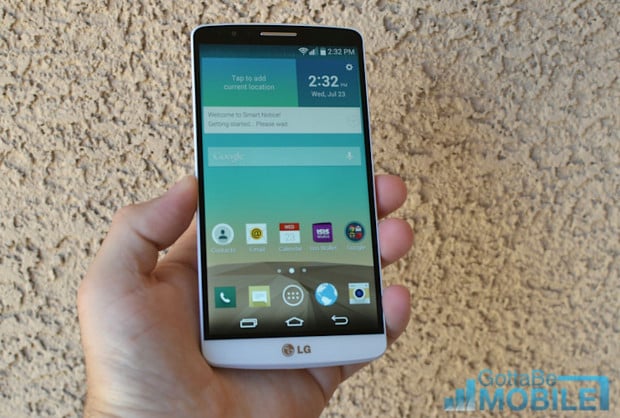 Android 5.0 Lollipop was announced and revealed by Google on October 15th, and along with it was a new Nexus 6, Nexus 9 and Nexus player all running Google's latest software update. A few weeks later in early November was when Google officially released it to manufacturers, we're hearing November 3rd, and many confirmed updates would arrive within the next 3 months, or before years end.
Samsung, Motorola, HTC and many others all promised that updates would arrive quickly, and so did LG. The company wasn't very transparent about its plans for updates, but confirmed the LG G3 Android 5.0 update should arrive before the end of the year.
LG G3 Android 5.0 Update
In November multiple reports and rumors suggested the LG G3 Android 5.0 Lollipop update was progressing rather quickly, and could arrive within a matter of weeks, not months. Then LG officially announced the G3 Android 5.0 update release date for select few on November 10th. This was only for two small regions though, testing the software and releasing it for a small group of users before bigger markets like the US receive it.
Read: Android 5.0 vs Android 4.4 KitKat: What's New in Lollipop
Earlier last month we received our first images of Android 5.0 on the LG G3, showing many of the design changes to the Android interface from LG are still included in the update, but many changes in Lollipop were added into the software. Users can expect a redesigned lockscreen with improved notifications, a new notification pulldown bar and quick settings on the device, tons of animations, effects, and visual responses to touches, and much more.
LG's done a rather fine job with its third party skin over stock Android with the LG G3, some might say better than Samsung's TouchWiz interface, or HTC's Sense UI, but that's all up for debate. That being said, it will only get better with Android 5.0 Lollipop, and multiple reports have confirmed it's a smooth transition. At least where the update has been rolled out.
US Carriers
The LG G3 is available from most carriers in the United States, but it hasn't received too many carrier or software updates. A few rolled out last month to fix a few bugs, and reportedly prepare the handset for Android 5.0, but that's yet to be confirmed. We've seen AT&T, and Sprint push software updates, but those aren't Android 5.0, as that's expected to arrive at a later date.
In the past AT&T has been first to updates, and they were first with the LG G2 last year too, ahead of others such as Verizon. While we can't say for sure, carriers likely will have a big say regarding the LG G3 Android 5.0 update, and they'll likely release it in stages from each carrier at a different time.
This means those on AT&T can expect it to arrive at a different time than T-Mobile, or Verizon, but we're not sure when that will actually happen. With Android 5.0 already rolling out to many G3 owners outside the US, LG is likely turning attention to one of its biggest markets for the next update. One problem could be the Android 5.0.1 bug fix update, which is expected to delay carrier and manufacturer Lollipop updates by at least a few weeks.
LG G3 Update Release
For now the LG G3 Android 5.0 update has arrived in Poland, Korea, and a few smaller regions, but that should be changing soon. User can expect the unlocked international LG G3 to get updates first, quickly followed by US carriers and else where. Again, LG has already confirmed the G3 Android 5.0 update will be here before the end of the year, which means they only have a few weeks left as we approach the midway point of December early next week.
Delays
Of course, delays are always a possibility, and we've seen plenty of them from LG in the past few years. Lately they've done a better job regarding software updates for many smartphones and tablets, but the possibility of delays is still very real. Above we mentioned Google's already released Android 5.0.1, a slightly newer version with bug fixes, and that could cause a few potential problems for LG, HTC, and other manufacturers.
Many of them are in the final stages of software updates, getting approval from Google or carriers, and more, and will now have to integrate the Android 5.0.1 changes into the final release. We've seen some go forward without adding the newest additions, and some delay the release to ensure the most up to date software as possible.
All said and done, LG promised updates for US LG G3 owners before the end of the year and we're still waiting for those to arrive. That's sadly the latest word, but we'll update as soon as more LG G3 Android 5.0 update details or information arrives.

This article may contain affiliate links. Click here for more details.