LG G3 Launch Date Revealed
After plenty of rumors and speculation regarding the LG G3 launch date and release, this week most of the important details have been revealed. The wait for the next major smartphone release in 2014 won't be much longer.
With the Samsung Galaxy S5 and new HTC One M8 both already for sale and in consumers hands, other buyers are looking forward to what else is in store, and that is the LG G3. Yesterday the company confirmed a general release date, but today invites are going out that confirm the LG G3 launch and reveal date.
Read: LG G3 Release Date Confirmed
The LG G3 flagship smartphone will officially be revealed to the world on May 27th at an event taking place in New York City, London, and also in San Francisco. The company has started sending out invites to select press and media outlets confirming the date, and hinting towards the G3 with a big bold G right in the invites.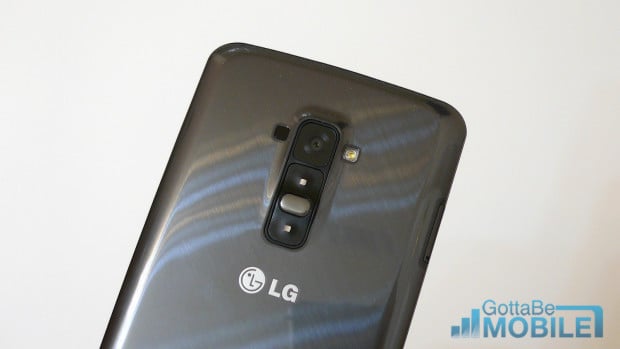 Over the past few months the rumors and speculation have been at an all-time high, even if the details and leaks have been less than previous years. While we're still awaiting all the details to fully surface, there is plenty of information on the LG G3 to gather ahead of the reveal date.
The first alleged photo of the LG G3 leaked earlier this week, and has since been followed up by two major announcements from LG. Yesterday LG confirmed the LG G3 will be released inside of Q2, meaning before the end of June. Today though, the invites confirm it will be announced on May 27th, and likely be released within 2-3 weeks from that date.
Read: LG G3: 6 Things We Know So Far
At this point there's no reason to expect this will be anything different from the LG G3, and with plenty of hype and excitement having a simultaneous announcements in three locations speaks volumes. Previous leaks suggest the LG G3 will be the biggest smartphone launch in LG Mobile history, across more regions than any device thus far, and kicking things off with a huge announcement is the first step.
Samsung's Galaxy S5 was announced in February in a similar fashion and arrived to market a little over a month later, and HTC's One M8 was announced and released on the same day at the end of March. Until this week most expected the LG G3 to arrive sometime later this summer, if not in August, but things are quickly changing.
Release Date
The LG G2 was released in September of 2013, with its predecessor arriving in November, so many were expecting a later arrival for the flagship LG G3. However, various rumors support the thought that LG is taking direct aim at the Galaxy S5, and will release its new phone much sooner to better fight the competition. At this point those rumors have all came true, and we'll more details before the end of May.
Earlier this month a full retail LG G3 box leaked along with rumors of a "summer release date" which has now been confirmed by LG themselves. If previous releases by LG are anything to go on, the LG G3 will be announced on May 27th and released within the second or third week of June.
We've already confirmed Sprint will be on board, but previous LG devices have all arrived first on AT&T, with the LG G2 also having certain exclusive features with Verizon Wireless. Thus far we've heard Sprint, T-Mobile, AT&T, Verizon, and even US Cellular will all offer the LG G3 at launch, not to mention a wide release around the globe.
What to Expect
So what can prospective buyers expect from the upcoming LG G3? Most of the features were rumored to arrive on the Galaxy S5 but didn't. Meaning LG is in an excellent position to offer one of the best devices of 2014, and steal sales from Samsung, HTC, Motorola, and even Apple.
The rumor mills suggest a 5.5-inch 2560 x 1440 Quad HD display inside a device with smaller bezels than we've ever seen before. Meaning the screen should be gorgeous and large, but not make the device physically bigger. The photo below is a sister product to the LG G3 launching outside of the US, but gives us an idea of how slim and sleek the new LG G3 could end up being.
Most leaks have confirmed the 5.5-inch QHD display, not to mention Android 4.4.2 KitKat, but we've also heard a newly redesigned software interface will be included. The LG G3 should come with a quad-core processor at 2.5 GHz, 2-3GB of RAM, and 32GB of internal storage. Talks suggest a micro-SD card will be included for consumers to expand device storage, and the camera has been improved to 16-20 megapixels. That is still up in the air based on leaks, but expect more details any day now.
We've heard small rumors of the LG G3 having an IP67 dust and water resistant certification like the Galaxy S5, and have no reason to think that won't be included. Other rumors claim the device will be all aluminum like the HTC One M8, but LG traditionally sticks to durable lightweight plastics for its devices. Of course the buttons on the rear will be along for the ride, rather than side-mounted power and volume controls, and we're expecting a fingerprint scanner for enhanced security to also be built-in.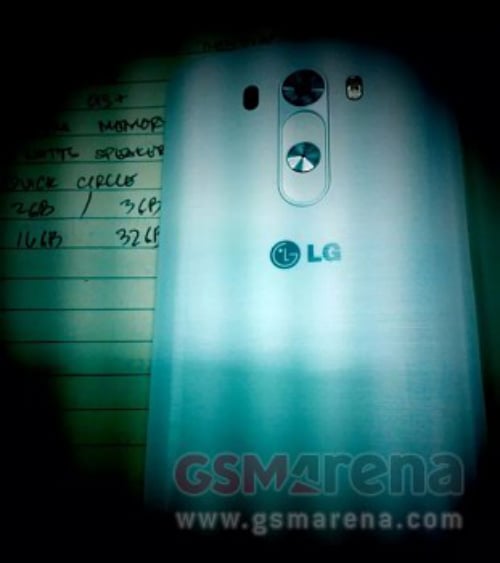 For now all the details are still just rumors, but enough of the reports have turned up accurate that it's safe to say we'll be seeing something similar to what's being outlined above. That and the device shown above confirms the plastic build quality, thin profile, and rear buttons.
Another possible showing on May 27th could be the all new Android Wear-powered LG G Watch. A device which was announced earlier this month and expected to also be released sometime near the end of June. Google's own developer event will be taking place at the end of June, which is the likely launch stage, but LG could have something else in store with both the new LG G3 smartphone and its LG G Watch.

As an Amazon Associate I earn from qualifying purchases.