LG G3 Photos Leak as Release Nears
As the release date approaches for the LG G3 we keep learning more and more about this highly anticipated and often leaked smartphone. Over the past month we've heard nearly all the details, but this weekend a few more photos leaked shedding more light on the upcoming device.
All month long reports, rumors, and leaks have continued to arrive at an alarming rate, and just when we didn't think we could see or learn anything else, more arrived. The LG G3 is officially going to be announced later this month, but below are two brand new photos revealing some additional colors
Read: LG G3 Leaks: Here's What You Need to Know
The LG G3 is set to be released within the next month or so, and we've recently confirmed it will launch with White, Black, Gold, and possibly even a Titanium option for colors. The phone has a lot of stunning specs and below are two more press photos giving us multiple angles and views of the new flagship smartphone that aims to take on the Galaxy S5 and iPhone 6. Below is everything you need to know.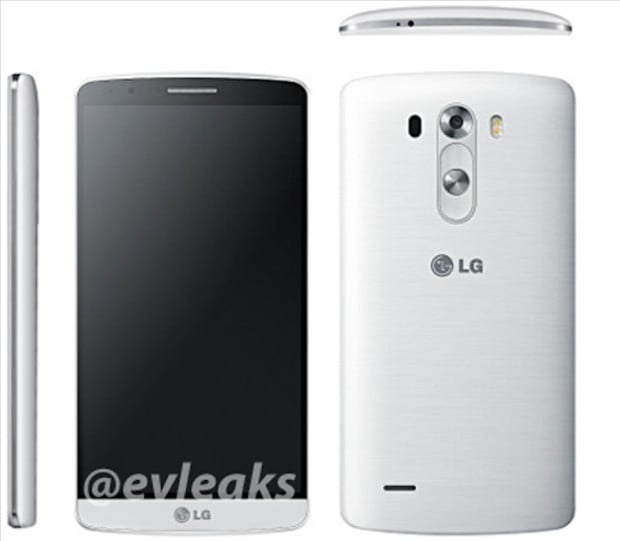 While initial LG G3 release date rumors initially were all over the place, as were regular rumors, the past month has put everything into perspective for potential customers looking for a new smartphone this summer.
Late last month LG confirmed the G3 announcement and launch date will officially be May 27th, so in just a little over a week. That means all the rumors will be put to rest, and we'll finally have the complete picture and every detail needed to decide if this is the next smartphone you'll want.
That isn't all however, and LG also confirmed the release date in a roundabout way. The LG G3 release date will be before the end of June. Sadly that's the only details we've been given, with LG stating it will be available in the United States and around the globe before the end of June.
Read: 5 Reasons to Wait for the LG G3
At this point we know nearly everything about this smartphone, and the leaks today are simply different angles and new colors, considering the past month have revealed all the key details, specs, and information about this new smartphone.
The LG G2 in 2013 arrived in late September to battle the iPhone and Galaxy Note 3, but was beat to market by Samsung and HTC by a few months. This year the LG G3 will be bringing the latest and greatest specs to market, ahead of both HTC and Samsung, and only arriving a month or two late. As a result, we're now hearing rumors about two new smartphones from both above mentioned companies to combat the impressive sounding LG G3.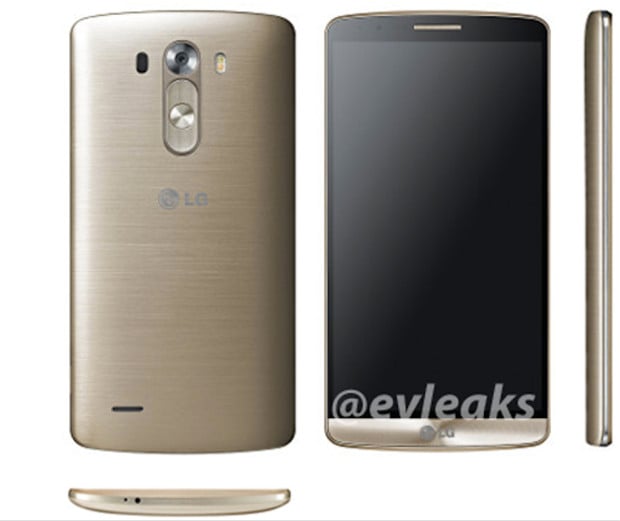 So what can prospective buyers expect from the unannounced yet often leaked LG G3? A pretty well-rounded smartphone if rumors are accurate. Building on a successful launch and design of the original LG G2, the G3 will have redesigned rear buttons as shown above, a bigger display, thin bezels, and tons of additional features to put it over the competition.
LG G3 Specs
5.5-inch 2560 x 1440 Quad-HD display
2.5 GHz Snapdragon 801 quad-core processor with 2/3GB RAM
32GB storage with micro-SD slot for expansion
13 megapixel camera with OIS+ and Laser Auto-focus technology.
Redesigned rear-mounted buttons
Fingerprint scanner under aluminum rear power button
Infrared Port for remote control
Android 4.4.2 KitKat and new LG Interface
3,200 mAh removable and replaceable battery
The details mentioned above are all based on leaks from the past few months, not to mention a few have been confirmed by LG themselves. LG has already been touting the 5.5-inch Quad HD display, as it'll be the first commercial smartphone in the United States with such a feature. They also released the video below to add to the hype.
https://www.youtube.com/watch?v=83Xm26Zvo18
We've heard a few reports of an improved Snapdragon 805 quad-core instead of the above mentioned specs, but those have yet to be confirmed. Either way, the new LG G3 will be one of the fastest and most powerful smartphones available today.
User interface leaks have revealed a new virtual assistant that will work with apps and weather widgets to make the user aware of things, ahead of them even asking. Things like weather notifications, driving directions, and other contextually-aware apps will be included. This just means the LG G3 will be fast, fluid, powerful, up to date, and extremely smart.
Read: Galaxy S5 vs LG G3: 5 Things You Should Know
At this point all signs are pointing to an early June release date across all five major US carriers, potentially at the same time. We'll know about release and carrier plans come the 27th of May, as well as what colors and options will be available. So far all leaks suggest white, black, and gold will be available, and there have been a few hints that an aluminum-backed LG G3 "Titanium" could also be released.
With less than two weeks to go there's a chance all the final details could leak this week, and we'll be sure and update with any and all details as they become available.