LG G4 Leather Backs Released for Buyers
Buyers who just picked up the brand new LG G4 and want to get an extra genuine leather back or two for it, will want to head to LG's new website where they're offering two for the price of one. We knew six genuine leather colors were coming soon, and now those who pre-order will get a second leather cover absolutely free.
On April 28th LG announced the all-new G4 in New York City and one of the most exciting aspects aside from the stunning camera was the handmade genuine leather backs that cover the rear of the phone. Rather than cheap plastics LG has six different colors in two textures to give its new flagship phone a unique yet premium look and feel.
Read: 30 LG G4 Tips & Tricks
LG is selling leather backs in Light Blue, Orange Brown, Pink, Red (Burgundy) and Yellow for $69.99, and those who pre-order one right now will get a second beautiful leather back completely free. Read on for more details.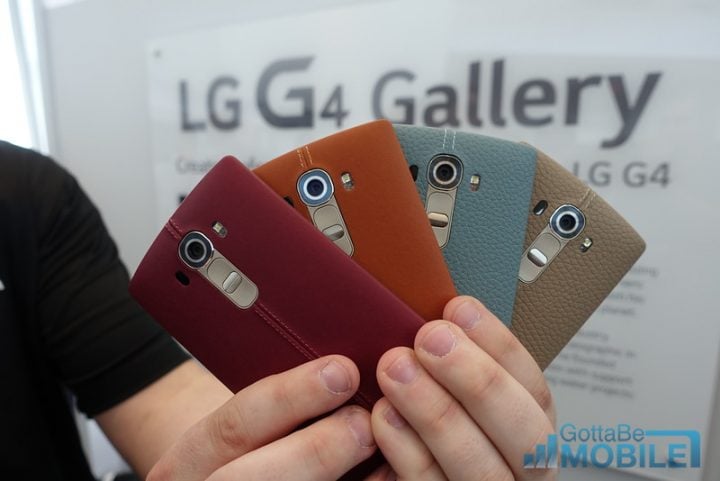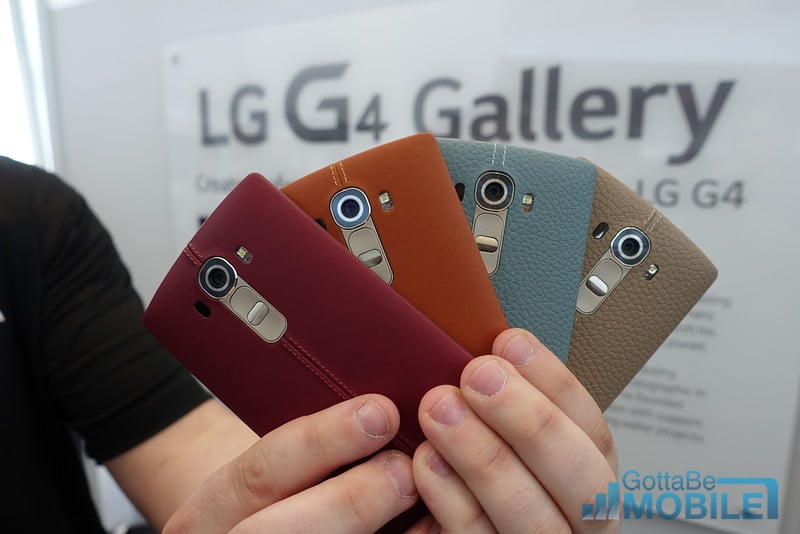 Last week the LG G4 officially went on sale in the United States from all five major carriers after over a month of waiting, and all carriers are offering it in at least one plastic color, and a leather version. For whatever reason T-Mobile has an exclusive vegetable-tanned brown leather, then the other four carriers are offering the LG G4 in black leather.
However, today LG surprisingly opened up a pre-order page for the leather backs, but the Black leather and the vegetable-tanned brown are not an option. Nor is the tan color we saw at the launch event pictured above. For whatever reason LG has five different colors available today.
If you picked up (or plan to) the LG G4 in plastic, or just want a different leather color for special occasions or to match an outfit, it looks like LG will be offering them for $69.99 each. That's a pretty expensive price to pay for a replacement back that doesn't offer wireless charging, but it doubles as a case in a sense, and gives you a premium look with real handmade leather in two textures.
As you can see above LG has five color available in two different textures. Light Blue, Orange Brown, Pink, and Yellow all with a rough texture, and only the Red (Burgundy) in a smooth texture. Personally the smooth felt the best from our short hands-on during the launch event, but the Light Blue was my favorite, and what I'll be buying today. LG is asking $69.99 for each back, but giving buyers an extra color for free for a limited time.
From today until June 30th LG will be offering this buy one get one free deal, so get it while they last. It's worth noting the leather backs are available today at this discounted rate as a pre-order, and they'll start shipping at the end of June.
Read: How to Use the LG G4 Camera
Shipping is free, and it looks like all colors are listed to ship on or before June 26th. This is likely the best deal we'll see on LG G4 leather backs for the foreseeable future, so if you are considering getting one, now is probably the perfect time.
We've reached out to LG regarding additional colors, or if carriers will be offering them in select stores later this summer, and will update once we hear back. So far we've yet to get any confirmation from LG. That all said, get two right now for $69 while this deal is still available, and enjoy the LG G4 in a few different colors.
11 Best LG G4 Cases
LG G4 Folio Flip Case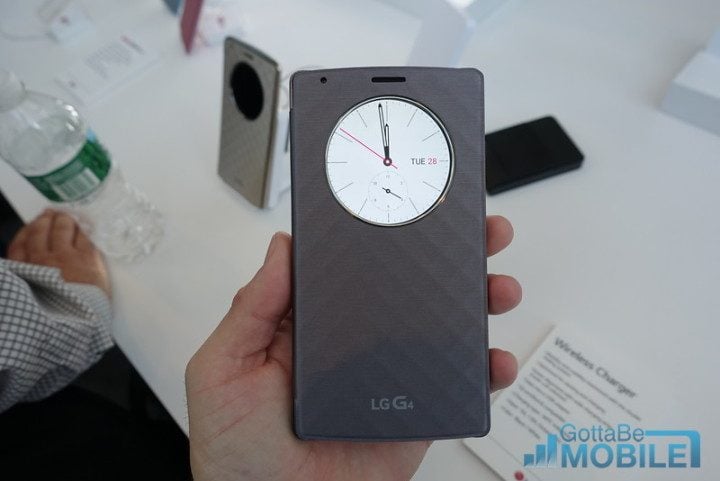 Just like last year, LG is offering an official Folio Circle Case that offers multiple levels of protection, additional neat features, and a Flip cover to protect that big 5.5-inch screen. The trademark circle window cutout in the flip cover shows a clock, the weather, incoming call or text message information, quick access to the camera and more all without ever opening the case.
Flipping open the case instantly wakes up your device, but you can do everything mentioned above without even opening it. This case makes your phone durable, offers additional features, and protects the screen all in one. Last but certainly not least, there's also a second version of the Folio Case that enables wireless charging, making it more than worth the more expensive price point.
LG hasn't announced pricing for the G4 Folio case and it's still listed as coming soon on LG.com, but last year the G3 Folio case was $49, and the wireless charging enabled case was $59.99. We'll update once it actually goes on sale.

As an Amazon Associate I earn from qualifying purchases.