LG G4 Release Date Arrives for US Buyers
Since first being announced on April 28th the LG G4 release date in the United States has been a complete mystery, until now. This morning the first official LG G4 release date has been announced by Sprint, and pre-orders are available starting today along with a sweet LG G4 deal.
Late last month LG took the stage in New York City and announced the all-new redesigned LG G4 after months of rumors, speculation, and small teasers. It went on sale in Korea the very next day, and all major US carriers confirmed they'll offer the new phone, we just need to know when.
Read: LG G4 Review
After some rumors last week that an LG G4 release date and G4 deal would arrive at the same time from Sprint, that's been confirmed this morning. Sprint will release the phone on June 5th, bundle it with a sweet deal for buyers, and pre-orders are available starting today. Read on for more details.
The entire LG G4 release date has been a mystery with no one having any details, or any leaks confirming when it would arrive. Then, last week T-Mobile accidentally tweeted they'd release their version of the phone on June 2nd, but that post on Twitter was quickly deleted.
Since then we've yet to hear from any carriers, but we know the LG G4 will be released on T-Mobile, AT&T, Verizon, Sprint, and US Cellular, and that's in no particular order.
As shown in the image above, Sprint isn't just releasing the phone on June 5th, they're also bundling tons of exciting accessories with the phone all for free. Essentially making the pre-order an LG G4 deal that many should consider.
The LG G4 will be be $199 with a new 2-year contract on Sprint, or $599 outright. Then of course the carrier will offer the G4 with Sprint Easy Pay. Making the phone $0 out the door with 24 easy monthly payments of $25, which equals out to the $600 asking price.
However, those who buy the LG G4 from Sprint will get a free 32GB micro-SD card (to go along with the 32GB of internal storage) an extra 3,000 mAh battery since the battery is removable, and a second charging cable and wall wart so you can charge the device in two rooms. This is one of the best release date bundles we've ever seen, and something hopefully other carriers offer to help the impressive LG G4 compete with Samsung's Galaxy S6.
Read: 30+ LG G4 Tips & Tricks
Those considering the LG G4 will want to check out our full review linked to at the top of the page, and once you get the new LG G4 from Sprint on June 5th read over our 30 tips and tricks above to learn everything and more about the new phone.
This is the first LG G4 release date that has been announced, but we have a feeling more carrier announcements will coming in the next few days, confirming the release for all major US carriers. T-Mobile may get it first on June 2nd, but that's yet to be confirmed, so we'll have to wait and see.
It's worth noting that Sprint mentions the free micro-SD card, battery, and second charging kit will ship in 4-6 weeks, so it may not be available for buyers in store on release day. There will be a limited time for buyers to claim the free goods, and we'll update one we learn more on that. For now though, sit tight as the LG G4 release date will be here soon enough.
6 Exciting LG G4 Cases
LG G4 Folio Flip Case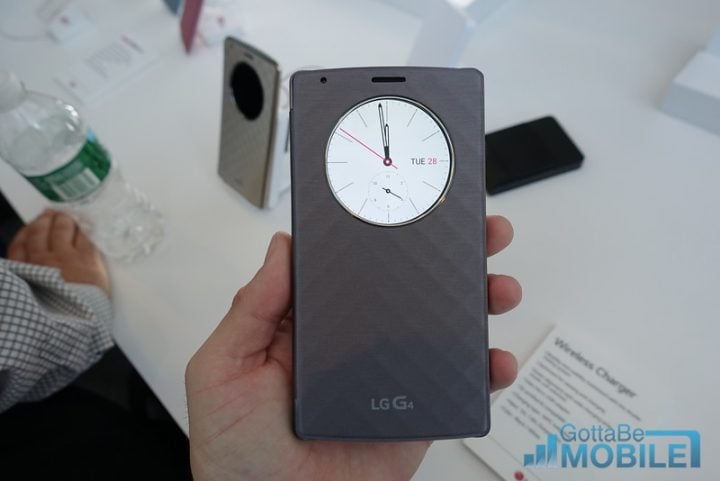 Similar to last year, LG is offering an official LG-made Folio Flip Circle Case that offers multiple levels of protection, additional neat features, and more. The G4 Folio case protects the entire device as usual, but then has a flip cover that protects the 5.5-inch screen. The trademark circle window cutout in the flip cover shows a clock, the weather, incoming call or text message information, quick access to the camera and more all without ever opening the case.
Then opening it instantly wakes up your device. This case makes your phone durable, offers additional features, and protects the screen all in one. Last but certainly not least, there's also a second version of the Folio Case that enables wireless charging, making it more than worth the more expensive price point.
LG hasn't announced pricing for the G4 Folio case, but last year the G3 Folio case was $49, and the wireless charging enabled case was $59.99.

This article may contain affiliate links. Click here for more details.