LG G4 Release Teased in New Videos
The LG G4 release date is quickly approaching as the device is set to be officially announced and fully unveiled next week on April 28th, but that hasn't stopped LG from releasing a few more teaser videos highlighting the new smartphone. Over the course of the past month LG has been busy teasing small bits and pieces of its upcoming flagship smartphone, the LG G4. A Phone that aims to take on the Galaxy S6, HTC One M9, and anything else from the competition.
In 2014 the LG G3 was announced in late May and arrived over a month later, far behind the competition. And while this year the new LG G4 will be released later than its competitors again, it should be much sooner than last year. We know almost everything already, but today a few more videos showing off the display, camera, and 12 week build process for the new genuine leather backs have all been released.
Read: LG G4 Release: Everything We Know So Far
Lately LG has announced the new 5.5-inch Quad-HD display, teased the new camera, and invites were showing some sort of leather design for the rear of the smartphone. Then a major leak last weekend spoiled all the details well ahead of the release date. With the cat out of the bag, LG is wasting no time showing us plenty about the phone ahead of the unveiling.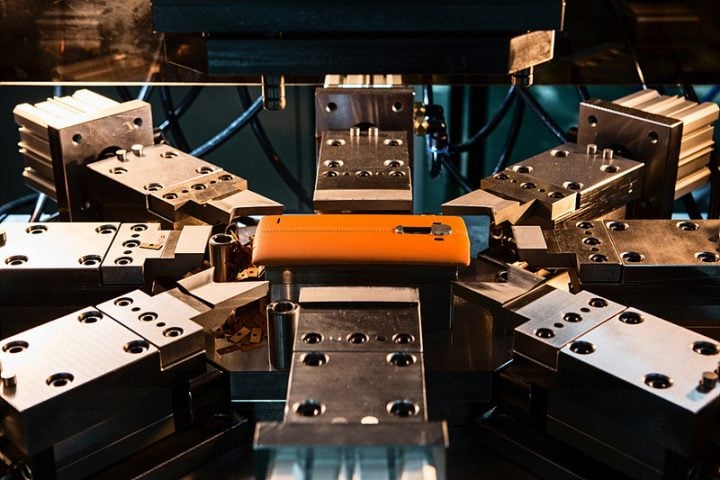 Along with everything we've already seen, LG isn't letting up. In fact, they're ramping things up and we now have two more videos showing off the LG G4 and everything it has to offer, and some info about that leather back. They didn't change the design much from last year, and instead are banking on a better display, a much improved camera, and some quality leather materials for the back of the phone.
On April 28th live in six countries and at an event in New York City, LG will officially unveil the new LG G4 smartphone aimed at taking on the new Galaxy S6, HTC One M9, and even the Moto X with some new leather designs and more. The phone is stacking up to be one of the best in 2015, and here's the latest teasers.
It's worth noting the two videos are in Korean, but you still get the point. That being the newly improved 5.5-inch HD display should be one of the best on the market, the camera is extremely capable and fast, and then they even reveal more about the genuine leather and the long 12 week process it takes to manufacturer each back casing.
https://www.youtube.com/watch?v=VhOIB0npP-w
The LG G4 will come with an improved 16 megapixel camera with an extremely fast f1.8 rating, which is faster than the stunning Galaxy S6 that comes in at f1.9 and is already being touted as the best Android smartphone camera. LG has high hopes, and these videos are showing some of what potential buyers can expect.
https://www.youtube.com/watch?v=rH7z9LF2IDE
Today LG also took a moment to talk about the genuine leather design of the new phone. And while we're not sure if these leather backs will be an option sold by carriers, an additional add-on purchase, or just limited editions, we do know there will be three regular colors and six leather options. Plastic coming in black, silver, and gold, and six beautiful hand-crafted genuine leather choices.
G4 leather back cover takes a manufacturing process of a total of 12 weeks. Quality to make the final product from the supply of good leather back cover, competition among the core process takes time even more than 10 times the normal rear cover of the production period (4 days). LG Electronics has added a lot of handmade work here. Working directly for sewing leather stitching, and a coating material so that the rim all unravel need a lot of hand by hand, such as paint.
The quote above didn't translate to perfect English, but we get the idea. Instead of the typical four day process to build the plastic backs, the genuine leather is hand-stitched and takes 12 weeks to complete each one. Previous leaks suggest six different colors will be available, which black and tan likely being the most popular and cheapest options, but we'll have to wait and see.
We know the smartphone will run Android Lollipop, have a 5.5-inch Quantum Quad-HD display, a 6 or 8-core Snapdragon 808 or 810 processor with 3GB of RAM, 32GB of storage, a micro-SD slot for expansion, a much improved 16 megapixel camera, laser auto focus and buttons on the back and be powered by a 3,000 mAh battery.
Again, the LG G4 will officially be announced and revealed on April 28th in New York City, and we'll be there live with all the details. Glass on the Galaxy S6, or leather from LG. Which will you choose?