LG G4 Release Teaser Hints at New Design
With the LG G4 release coming soon, more and more details are starting to come to light. With the Samsung Galaxy S6 and HTC One M9 both hitting shelves this week, the next major release will be the LG G4. This week the company confirmed the LG G4 launch date and sent out invites, as well as released a few teaser images and a video.
Last year the LG G3 was announced in late May and arrived over a month later, far behind the competition. However the past few years each new phone has arrived over a month earlier than the model before it. This year they'll do the same, and the launch is officially set for April 28th. Today though, a new image has surfaced teasing a potentially new design element.
Read: LG G4 Release: 5 Things You Need to Know
In early February the new LG G4 smartphone was somewhat confirmed by LG themselves, following some early rumors. Those will all be put to rest soon though, because LG has confirmed the phone will be revealed on April 28th at simultaneous events in six countries, and shown off in New York City. We don't know exactly what to expect, but the image below gives us a good idea of what's coming.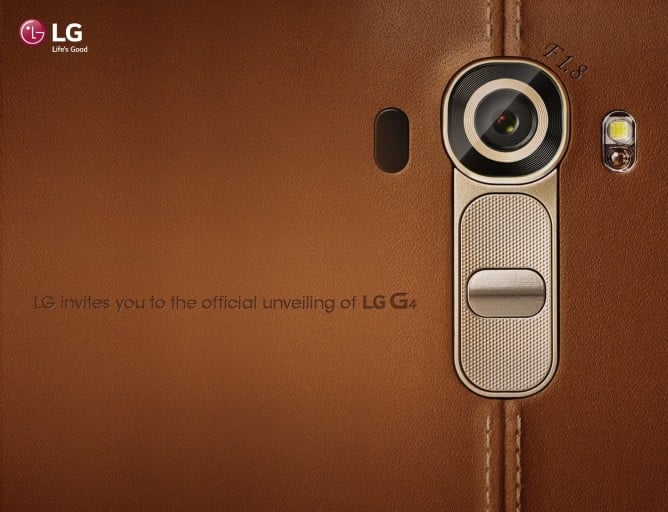 We've seen a few leaked images already, but come late April the company will officially announce the new smartphone. Invites have started going out teasing the G4, and potentially revealing one version of it will be made from leather. Or at least have a leather back similar to the 2014 Moto X.
Earlier this week LG announced a brand new 5.5-inch 2560 x 1440 Quad-HD display for smartphones, stating that it will be the highlight of the new G4. Rumors suggested the screen could be smaller this year, but that doesn't appear to be the case. The new screen has tons of improvements, and promises to be the best LG display and smartphone screen available in 2015. The Galaxy S6 has a rather impressive 5.1-inch quad-hd display, so LG has some stiff competition.
However, what's new isn't the 5.5-inch 2560 x 1440 Quad-HD display, or the fancy new f1.8 16 megapixel camera they revealed yesterday, it's the new invites teaser image going out to select press last night and earlier this morning. LG is formally inviting members of the press to experience the LG G4 launch event, and the image above shows potentially a completely new look, or at least a special edition they'll be offering.
The event invitation gives us a look at the back of the LG G4. You'll instantly notice the big camera, the popular and exclusive to LG rear button controls, as well as the camera flash and laser auto-focus introduced with the G3 last year. The new part though, is what appears to be the materials on the device. We're seeing an odd leather with a nice stitching all the way down the device. It looks nice, yes, but having a leather seam on the back may not look too great, or be all that comfortable.
Early reports suggested metal and different materials to battle the Galaxy S6, then we saw leaked images of a curved plastic LG G4, so at this point we're unsure of what to expect. Most likely though, LG will use the same plastic design we've seen in previous years, but also offer a leather alternative, or custom leather backs similar to the 2014 Moto X. We can clearly see that in their teaser image, but that's about all we know thus far.
April 28th will be here soon enough, and the company will take the stage and announce everything while answering all of our (and buyers) questions. For now though, we'll have to wait for more teasers from LG, or some leaks to confirm what's actually coming on April 28th. The latest rumors suggest a 5.5-inch 2k screen, an 8-core Snapdragon 810 processor with 3GB of RAM, 32GB of internal storage, a micro-SD slot, Android 5.0.2 (or Android 5.1) Lollipop, and a bigger 3,300 mAh battery.
We can expect more details to arrive in the coming days or weeks, not to mention a few potential leaks of the device ahead of the actual announcement later this month. LG has hard a hard time keeping leaks under control in previous years, so we'll keep an eye out for more details, pictures, and more of the new LG G4.