LG Genesis Brings Dual Screens and Physical Keyboard to Android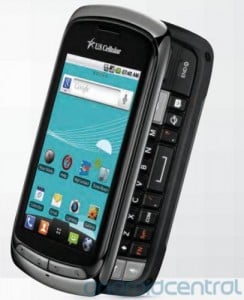 The LG Genesis will bring a dual-screen form factor to Android, but unlike the dual-screen form factor of the Sony tablet and the Kyocera Echo, the screens on the LG Genesis will be a bit different as they cannot be merged to form a singular larger display. Rather, the LG Genesis takes on the form factor of the LG EnV on Verizon Wireless, but adds the Android OS to take it out of feature phone realm.
The device features a clamshell form factor with a front-facing touchscreen on the outer lid, and a second screen in the clamshell portion with a keyboard on the other half, much like a traditional laptop.
In the past, this device was rumored to be coming to Verizon Wireless as the LG EnV Pro, but now the device is re-badged as the LG Genesis and will be hitting U.S. Cellular according to the leak obtained by Android Central.
The device will feature Android 2.2 on top of a 1 GHz Snapdragon CPU. The outer touchscreen will be a 3.5-inch WVGA display while the inner screen will be a 3.2-inch WVGA touchscreen. The device will have a 5-megapixel rear camera.
The question is if LG could have gone with a slider form factor instead, like the Sidekick 4G, and if the secondary screen is frivolous.

As an Amazon Associate I earn from qualifying purchases.