LG Lucid 4G/Cayman Pictured with Verizon Branding
Along with the Droid Fighter, another upcoming and unannounced handset that was spotted that we had previously little knowledge of is the LG Cayman, a device that's rumored to be launched as Verizon's LG Lucid 4G. The phone has recently been pictured in some press photos, which were obtained from pocketnow, along with some additional hardware information on the phone. In general, the LG Lucid 4G looks to be a solid mid-range offering that will slot in nicely right below the LG Spectrum on Verizon's LTE network.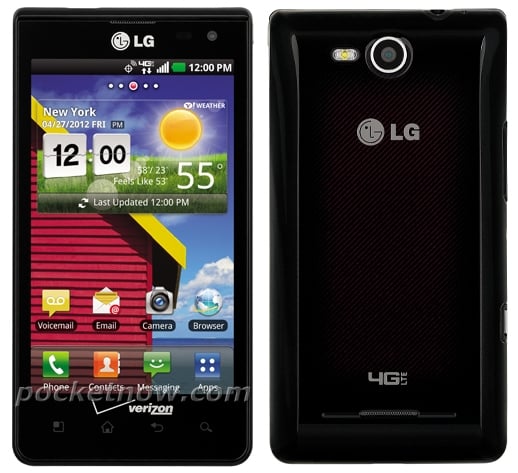 The device features a dual-core 1.2 GHz applications processor and will come with 8 GB of internal storage. It will have a 5-megapixel camera with flash and the ability to record videos in 1080p. The phone will have a 4-inch WVGA Nova display on the front alongside a front-facing camera. In general, this may be Verizon's dual-core variant of the LG Optimus Black, which was launched on Sprint's network as the LG Marquee.
The LG Lucid 4G will launch with Android 2.3 Gingerbread and will likely be upgraded to Android 4.0 Ice Cream Sandwich. Pricing information is not yet available for the device. Given that the LG Spectrum costs $200 with a 2-year contract, the LG Lucid 4G will be expected to cost less.
The LG Lucid 4G was last rumored to be landing on Verizon's network by April 12, or about three months after the carrier had made the LG Spectrum available.

As an Amazon Associate I earn from qualifying purchases.