LG Nexus Goes Cheap With No MicroSD and 8GB Storage
New photos of the presumed LG Nexus or LG Optimus Nexus have emerged today and the owner of the leaked prototype in those photos has also confirmed several of the device's rumored specifications.
Over on XDA-Developer forums, a user named 4shael posted some detailed images of a device that is presumed to be the LG Nexus smartphone that is rumored to be launching later on this month, possibly at All Things D: Dive Into Mobile which is set to kick off on October 29th.
There, Andy Rubin, Google's Android chief, will take the stage. We still don't know what he'll be announcing but we presume it will be something to do with the Nexus program.
Read: LG Nexus Photos and Benchmarks Leak.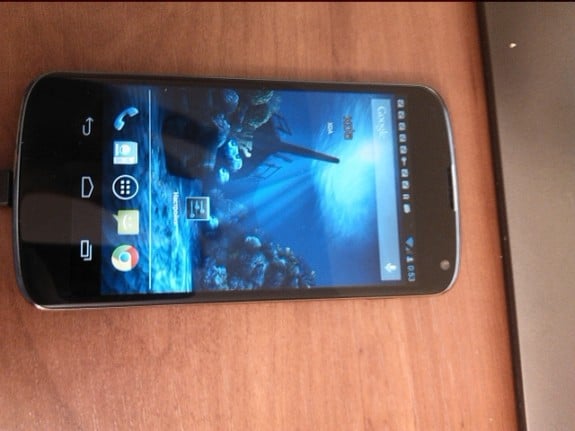 One device that he may unveil is the LG Nexus which, over the past few days, has leaked out numerous times for the world to see, all but spoiling the surprise for Google and LG. And today's leak is no different. In fact, the owner of the prototype is taking questions from readers and has all but confirmed the specifications of the upcoming Nexus made by LG.
Here is what he or she says will come on board the LG Nexus:
CPU: core quad ARMv7 1.5GHz<
RAM: 2 GB
Memory: 8GB (and I haven't found SD slot)
GPU: Adreno 320
Android version: JellyBeanMR1
Kernel 3.4.0
Screen: 768×1184 (320 dpi)
Camera: 8 MPx
All of these were rumored previously but now that they have been revealed by someone with the actual device, we can assume that they will be arriving with the device when it hits shelves.
There are three key confirmations here. One, 8GB of storage space, which is insanely low for a smartphone. Two, no microSD card slot, something that is prevalent in Nexus-branded devices. Three, the device runs Jelly Bean and not Key Lime Pie or some other iteration of Android.
Read: 3 Reasons Not to Buy the Rumored LG Optimus Nexus.
What this means is that LG and Google will likely be able to keep the cost of the LG Nexus down which should attract those that want some high-end specifications, vanilla Android, and a cheap price tag.
On the flip side, the LG Nexus will be stuck with very little memory, unless of course there is a 16GB model, which we hope there will be.
HTC, Samsung and Sony are also rumored to be producing Nexus smartphones and we should found out if they will be joining LG later on this month.