LG Optimus 2X Now T-Mobile-Bound?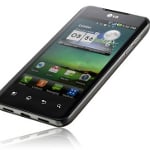 Sources to RCR Wireless are saying that LG's flagship Optimus 2X Android smartphone with its 4-inch display and NVIDIA Tegra 2 dual-core processor would be headed to T-Mobile USA's network in March. The phone, which so far has only been launched in LG's home country of Korea, will be destined for a European launch in February around the time of the Mobile World Congress trade show, and then across the Atlantic to U.S. soil in time for March.
With dual-core processors gaining ground in 2011, and LG among the first out of the door with the Optimus 2X, the company would probably want to release the device in as many countries as possible. The Optimus 2X represents a true challenger and serious competitor to Samsung's Galaxy S Android smartphones, which utilizes a single-core Hummingbird CPU, and Apple's iPhone with its iOS platform.
Via: PhoneArena

This article may contain affiliate links. Click here for more details.