LG's New 3D Smartphone Gets Pictured
Back at the end of January details and an image of a device codenamed LG CX2 leaked out showing us a device that is thought to be one of four devices that LG might be announcing at the Mobile World Congress later this month. Rumor has it that the CX2 is going to be the LG Optimus 3D 2. Well, for those interested (and we are), the Optimus 3D has leaked out in yet another image.
The image which comes from ETNews, shows off the white version of the Optimus 3D 2, a device that is said to be a whole 2.1mm thinner than the original and 20 grams lighter. Quite the improvement indeed.
The report also notes that the phone is going to be coming with a glasses-free IPS 3D display, DLNA, and HDMI.
Those specifications come in addition to those that we've already heard about.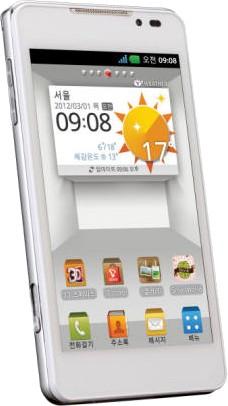 Namely, a 1.2GHz dual-core chip from Texas Instruments, a 4.3-inch NOVA display  both of which are bumps over the original Optimus 3D, dual 5MP rear cameras for 3D photo and video, 8GB of internal storage space, and Bluetooth 3.0.
It's also rumored to have a sub 10 millimeter design, NFC chip, a radio for support for HSPA+ 21, and, wait for it, Android 2.3 Gingerbread.
LG will likely say that the phone is upgradable to Android 4.0 Ice Cream Sandwich when it announces the device at the Mobile World Congress.
As for those of you in the United States, we expect this device to launch in the same fashion as the Optimus 3D which means we probably will see it launch later than the international version and with different branding.
The original Optimus 3D arrived on AT&T as the LG Thrill 4G, a phone that currently costs a mere penny, which we think is an absolute steal.
Via: OLED-Display
Check back later in the month for our coverage of the Mobile World Congress.

As an Amazon Associate I earn from qualifying purchases.