LG Optimus 4X HD: Features, Release Date, Carriers
Yesterday, LG announced that it would be debuting one of the most anticipated smartphones of this year's Mobile World Congress 2012. That device of course is the LG Optimus 4X HD, a device that was originally known under the name LG X3, and one that will be the successor to the the company's previous release, the Optimus 2X or as it was known here in the United States, the LG G2x.
And while we are still awaiting all of the details regarding the device, LG has decided to share quite a bit of information about a phone that the company will likely market as its flagship smartphone.
The Optimus 4X HD will be just one of many phones that LG will be announcing in just a couple of days.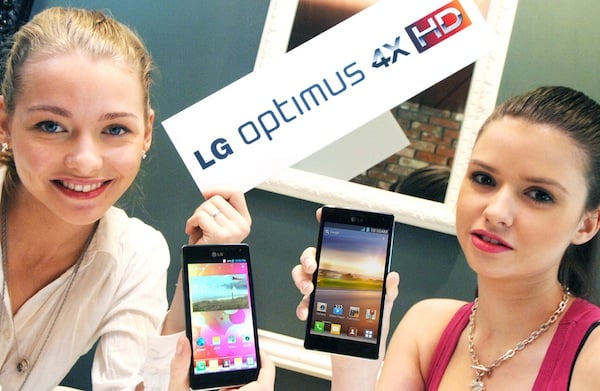 (Read: LG Optimus 4X HD, Optimus 3D Max and Optimus Vu Surface on Video.)
LG has already confirmed two other high-end devices in the Optimus 3D Max and the 5-inch Optimus Vu as well as a trio of L-Series Optimus smartphones dubbed Optimus L3, Optimus L5, and the Optimus L7.
(Read: LG Confirms Three New Optimus Smartphones.)
Needless to say the company will be busy.
Out of all of these though, the LG Optimus 4X HD is arguably most exciting and it's also a device that has been speculated to be landing on a carrier here in the United States.
Hardware
While there are still some mysteries surrounding the Optimus 4X HD, hardware fortunately isn't one of them. First and foremost, the Optimus 4X HD will be arriving with a 1.5GHz quad-core Tegra 3 processor from NVIDIA.
If you're not aware, Mobile World Congress' focus this year will be on products running NVIDIA's Tegra 3 processor which boasts not one, not two, not three, not four, but a grand total of five cores.
NVIDIA has branded it as 4 + 1.
So what does that mean?
NVIDIA says that the four main cores will be used to handle more intensive tasks like gaming, Flash video playback, or encoding or decoding high definition videos. That fifth core?
Well, it's a a low-power core that will be used to handle more basic tasks, like retrieving email or operating in standby mode, which will help the device save power.
Quad-core is a good thing folks.
And that's not the only exciting thing on board the new Optimus 4X HD. In addition, it will boast a 4.7-inch True HD IPS display with 1280 x 720 resolution, 16GB of on-board memory, 1GB of DDR2 memory to handle things like multitasking, an 8MP camera on the rear, a 1.3MP front-facing camera for video chat, and an absolutely massive 2,150mAh battery.
It's a beast, and it's one of the better smartphones we've seen from LG, at least on paper, for a long time.
And for those curious about its design, it's a mere 8.9mm thin – same as the Motorola Droid RAZR MAXX.
Software
Something else that will be the talk of the town during MWC will be Google's Android 4.0 Ice Cream Sandwich operating system. It arrived back in December but up until now, it has been limited to a few devices. That's going to change in the next couple of weeks.
Companies are poised to announce a bunch of Android 4.0 powered devices at this year's MWC and the Optimus 4X HD is fortunate to be one of those devices.
You can take a good look at the Optimus 4X HD and its software in the video below. Warning, it's in Italian:
Yes, it will be running Android 4.0 right out of the box and that's a good thing.
Ice Cream Sandwich represents Google's best Android offering to date and the Optimus 4X HD is fortunate to have it on board.
Release Date
While LG hasn't given out any specific date as of you yet, the LG Optimus 4X HD is expected to arrive in Europe during the second quarter of this year. That means that we won't see it launch until April at the earliest.
June at the latest.
As for other places, we're still unsure. Because Mobile World Congress is a European trade show, most devices that get announced tend to show up across the pond first. So, don't expect the phone to launch in the United States before it comes to Europe.
If we had to guess, we'd say that LG is aiming the Optimus 4X HD squarely at Samsung and the Galaxy S III and at this point, we think that the Galaxy S III will launch somewhere around the time that the Olympics begin.
In other words, don't expect this phone in the U.S. until summer gets close.
Carriers
One of the mysteries that surrounds the Optimus 4X HD at this point is its destination. However, we can make an educated guess based on the information at hand. At the moment, NVIDIA's Tegra 3 processor is not optimized for 4G LTE networks. So, while LG hasn't said anything, we think the Optimus 4X HD is going to have a radio on board that's compatible with HSPA+ networks.
Not a chance this doesn't have some kind of  '4G' on board.
So, first, that means it could show up on a host of carriers in Europe and elsewhere.
And second, as far as the United States is concerned, heed this. There are currently only two carriers that are host to an HSPA+ network. AT&T and T-Mobile. AT&T is currently undergoing a transition as it is shifting from HSPA+ 4G to 4G LTE. And while it's possible that it might pick this phone up because it can market it as a quad-core device, we're skeptical.
More likely is a launch on T-Mobile, possibly as the LG G4X.
Remember, T-Mobile USA carried the Optimus 4X HD's predecessor and it has a high-speed HSPA+ 42 network in place that while not 4G LTE, will definitely help to sell this phone.
Pricing
Pricing, like the carriers and release date, is a complete mystery. And because we haven't seen a quad-core smartphone hit shelves yet, we have nothing to compare to.
We can't see carriers putting too much of a premium on the Optimus 4X HD, especially when it's not likely to have 4G LTE, so we don't expect it to be priced much higher then the current crop of high-end devices.
For T-Mobile USA, that would mean around $225 or so with a new two-year contract. Hopefully, LG fills us in a couple of days when this phone makes it's full-blown debut in Barcelona.
—
Photo via Engadget.