LG Optimus G Pro 5.5 Will Have Curved Glass Display
Following a short teaser on Facebook, LG has made good on its promise to reveal additional details about its larger 5.5-inch Optimus G Pro smartphone that will be headed soon to South Korea. The device will be officially announced and unveiled at Mobile World Congress in Barcelona, Spain at the end of the month, but LG is revealing more about the smartphone-phablet ahead of the event saying that the device will use a curved glass display.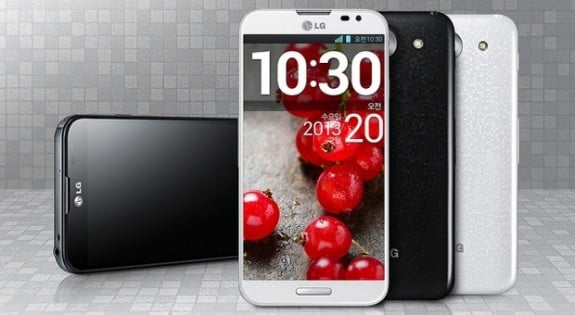 An outward curved glass display has been used before on devices like the Dell Venue Pro, the Nokia Lumia 920 and Lumia 800, and the Windows Phone 8X by HTC (HTC 8X). It gives a nice, elegant appearance, and in the case of Windows Phone products where there are lots of horizontal swipes to get through panoramic menus, it helps with the overall user experience. LG is saying that the curved glass will give the Optimus G Pro 5.5 a 2.5-D effect.
In addition to outwardly curved glass displays, there are some that cure inwards, like that employed on the Samsung Galaxy Nexus and Nexus S smartphones.
The design of the phone looks to be similar to the current LG Optimus G (non-Pro models) as well as the Nexus 4 for Google, which is also made by LG.
According to Engadget, other revealed specs include a 1080p full HD resolution on the 5.5-inch panel, which is half an inch larger than the Optimus G Pro 5 that was unveiled in Japan. There will also be a quad-core Snapdragon S4 Pro processor from Qualcomm, as well as a patterned back.
LG has not formally announced a release date nor pricing for the 5.5-inch edition of this phone. At this time, it's still unclear if this device will be making its way to the U.S., the rest of Asia, or Europe. In the U.S. currently, LG is offering the LG Optimus G with a 720p HD display on carriers AT&T and Sprint.