LG Optimus L9 Leaked With T-Mobile Branding
While Sprint and AT&T in the U.S. may have gotten bragging rights to LG's powerful flagship Optimus G smartphone, T-Mobile is ramping up with another LG device, but this time it's a more mid-range number. The LG Optimus L9 has been spotted in leaked press photos with T-Mobile's branding.
Images of the device's front and rear were posted on Twitter by user evleaks.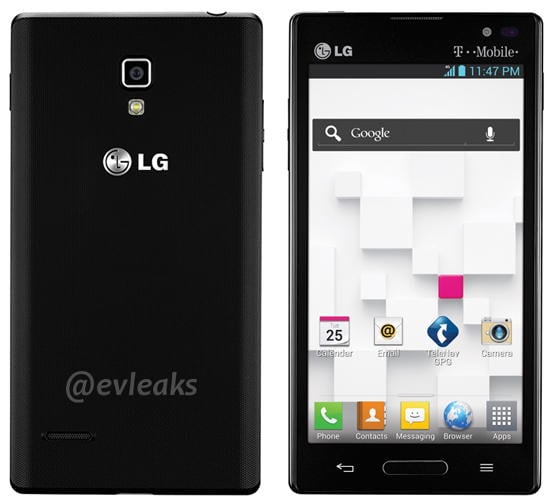 The LG Optimus L9 will be released with Android 4.0 Ice Cream Sandwich when it debuts along with LG's proprietary UI overlay. It will come with a more modest dual-core CPU–rather than the quad-core on the Optimus G–along side 1 GB of RAM and a capacious 2150 mAh battery. The phone has a 4.7-inch display with a qHD resolution, so it's not quite an HD display.
Despite these modest specs, the Optimus L9 appears to be a powerful smartphone still in its class. Had it been released just a year ago, it would have been a flagship, top-tier smartphone and a very competitive offering. Most average consumers will probably find the trade-offs between price and performance to be worth it in getting a mid-range device. Power users may want to aim higher not just for sheer performance today, but because high-end devices have a better chance of being offered an upgrade path to the next version of Android once Google announces it.
It's unclear when T-Mobile will announce the device. At this time, pricing and availability information is not yet known.

As an Amazon Associate I earn from qualifying purchases.