LG Revolution Coming to Verizon on May 25th?
The LG Revolution recently appeared in a new press shot and the phone in that image is apparently from the future as the date on the display reads 5/25/2011 which is a Wednesday.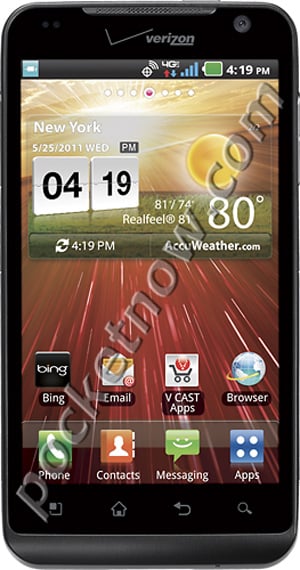 Now, this is a long shot, but there have been instances where the dates on press shots matched up with the launch dates, the LG Optimus 2X being one of them. More often than not though, they are just for show, which means that a release on the 25th is iffy.
Still, we like to stay optimistic and after all, a leaked Verizon road map did indicate that the LG Revolution was scheduled to be coming out in May and we did just hear that the LG Revolution was in the process of being tested.
The LG Revolution was originally announced back at CES and it will be another 4G LTE addition to Verizon's family of devices, one that includes the HTC ThunderBolt and two delayed devices, the Motorola Droid Bionic and the Samsung Droid Charge.
It'll boast a 4.3-inch display, a single-core 1GHz Snapdragon processor, and a 5MP rear camera when it finally hits shelves for a price that is believed to be $249.
(Via Pocketnow)

As an Amazon Associate I earn from qualifying purchases.