LG Revolution Now Being Tested by Users, Blurry Cam Photos Included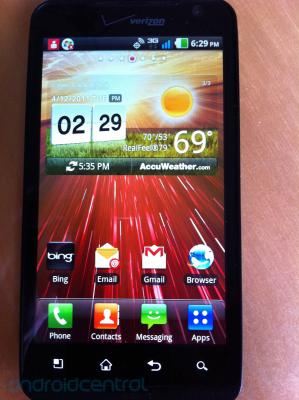 It looks like Verizon's next 4G LTE Android smartphone release after the HTC Thunderbolt is about to hit the market soon as the handset is now being tested by testers who are eager to post early photos of the smartphone. Along the Droid Bionic, the Samsung Droid Charge, and the HTC Thunderbolt, the LG Revolution is one of four 4G LTE smartphones that was announced at the Consumer Electronics Show earlier this year. Though Verizon had made announcements to its ten-device lineup at CES, the carrier was reluctant to give specifics in terms of release date, pricing, and retail availability.
It looks like LG and Verizon Wireless will be bundling Bing services on this Android handset. The move mirrors what Verizon had done with the Samsung Fascinate, which had eschewed Google's built-in search services in favor of integrating with Microsoft's search engine.
Like the other 4G LTE smartphones on Verizon's lineup, this handset packs a front-facing video chat camera, which can be handy for Skype video chat services, along with a capacious 4.3-inch display. There's also a 5-megapixel rear camera as well. The device is powered by a 1 GHz Qualcomm single-core Snapdragon processor.
At Mobile World Congress in February, the LG Revolution was shown demoing Netflix video streaming.
Via: Android Central

As an Amazon Associate I earn from qualifying purchases.