LG Revolution Price Falls to $100 at Wirefly
If you've been looking to get on Verizon's 4G LTE network and haven't wanted to shell out the big bucks, look no further than Wirefly's deal for the recently released LG Revolution which has been dropped down to a paltry $100 with a new two year contract.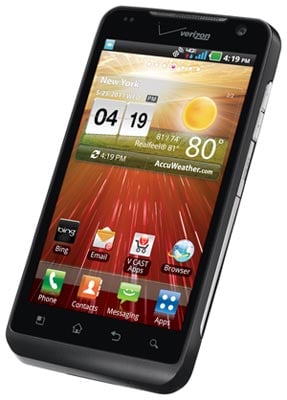 The best is that the price doesn't just apply to new customers but it also applies to those that are eligible for an upgrade making this an extremely attractive option for current Verizon customers. And just to make things ever sweeter for you, Wirefly has also thrown in free shipping as well.
Just how big of a discount is this? Well, considering Verizon is offering up this phone for $250 on a new contract, it's an absolute steal for a device that's only been out since the end of May.
However, before you get too excited, just remember. There are drawbacks to making the switch to 4G LTE and so you'll want to be sure you are willing to accept them before you make a two year commitment.
You can find Wirefly's offer here.
Via: BGR

As an Amazon Associate I earn from qualifying purchases.