LG Revolution to be Priced at $249, Droid Incredible 2 at $199
It looks like the LG Revolution may be priced at $249 according to a leaked pricing sheet that reveals the MAP, or minimum advertised price, suggestions given by Verizon. MAP prices guidelines for retailers to advertise their phones for, but instant discounts and rebates may reduce the prices even further.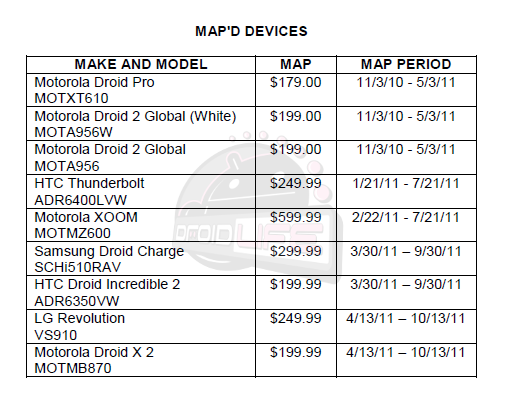 The LG Revolution was initially announced at CES. The device, like the HTC Thunderbolt, will be powered by a single-core gigahertz Qualcomm Snapdragon CPU. Additionally, its $249 pricing is similar to the Thunderbolt's pricing with a two-year contract.
The LG Revolution was one of four smartphones that were revealed at CES to support Verizon's 4G LTE mobile broadband network, which offers speeds up to ten times faster than 3G data speeds. The other three devices include the Motorola Droid Bionic, the Samsung Droid Charge, and the already launched HTC Thunderbolt.
The device is said to be currently in testing by some users. Pricing leaks, which suggests a MAP period–not launch period–for pricing between 4/13/2011 and 10/13/2011 may suggest that the LG Revolution is close to launch.
Additionally, the MAP pricing sheet also lists the Droid Incredible 2, successor to the original HTC Droid Incredible, to be priced at $199.99 with a two-year service agreement.
Via: Droid-Life

As an Amazon Associate I earn from qualifying purchases.