LG Teases Smartphone Announcement for September 19
LG recently brought its Intuition to Verizon, but it has another new smartphone to announce later this month.
According to Android Police LG sent out an invitation for an announcement of a new smartphone on September 19, the same day HTC will announce its new phone(s). The event will also feature Qualcomm, so it's safe to say the new LG smartphone will feature a Snapdragon processor, likely the dual-core S4 that almost every other high-end smartphone uses.
The invitation invites press to "live without boundaries," which we guess means LG has its own edge-to-egde screen to show off. If that is the case we hope LG's new smartphone has a higher resolution screen than the Motorola RAZR M.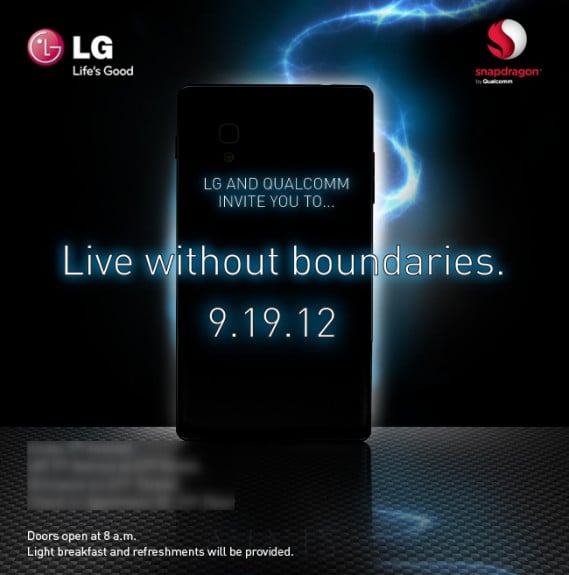 The image on the invitation looks like the back of whatever phone LG will announce at the event. The upper left corner shows a rounded-square camera lens with an LED flash below it.
While the LG Intuition is the company's attempt to compete with the Samsung Galaxy Note II, this phone will likely be LG's shot at the Samsung Galaxy S III. Thankfully this phone's silhouette has a conventional size as opposed to the 4:3 aspect ratio of the Intuition.
The invitation doesn't mention any sort of carrier, but so were not sure if LG has firm plans for when we can actually buy this new phone after the announcement. If not, it can join the Nokia Lumia 920, the Samsung ATIV S, and the RAZR HD in the ever-growing list of phones without a release date. It might also join the former two phones in the list of phones without an announced carrier. We hope we don't have to add any more phones to those lists.