LG Thrill 4G Appearing in Best Buy's Buyer's Guide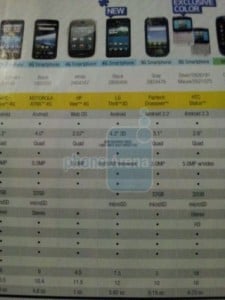 The glasses-free 3D LG Thrill 4G for AT&T is now showing up inside retailer Best Buy's Buyer's Guide publishing, suggesting that the handset is close to launch. When it launches, the glasses-free 3D capabilities of the phone will pit the AT&T variant against Sprint's HTC EVO 3D with both devices sporting a glasses-free 3D display, though the HTC device comes with a higher resolution qHD display versus the LG's WVGA screen.
According to a tipster to PhoneArena, Best Buy is expected to take pre-orders for the device soon, but specific timing was not given. So far, Radio Shack is already taking pre-orders for this device.
In order to capture images and videos in 3D, the phone will come with dual rear cameras that can capture 5-megapixel stills and 720p HD videos, similar to the EVO 3D. Additionally, a promised Android 2.3 Gingerbread update for the future will allow users to run existing apps and software in 3D.
The device is also known as the LG Optimus 3D internationally, but in the U.S., it will launch under the Thrill 4G branding and will utilize AT&T's HSPA+ 4G network.
Most recent speculations suggest that the handset was delayed and would not launch until August 21st.