LG Thrill 4G Details, Review & Hands-On Video Roundup
Way back on March 21st, AT&T quietly announced that it would be carrying a 3D-enabled phone called the LG Thrill 4G. The Thrill 4G, known elsewhere in the world as the LG Optimus 3D, boasts an impressive specification list and it's going to be the first glasses-free 3D smartphone on Ma Bell. That's extremely exciting for those that love 3D and want it on their smartphone.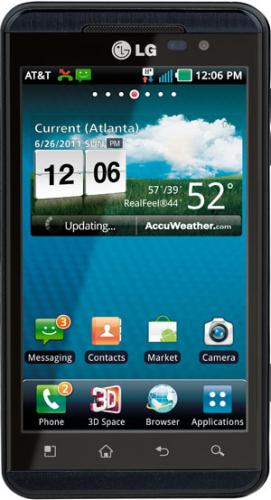 What is the LG Thrill 4G?
The LG Thrill 4G is the American version of the LG Optimus 3D and, as the title suggests, is a smartphone with 3D capabilities. In line with the other major U.S. 3D phone, the HTC EVO 3D, the Thrill 4G boasts an extremely nice list of specifications besides its ability to display glasses-free 3D. For starters, the Thrill 4G packs a dual-core OMAP4 processor from Texas Instruments which means that at some point, it will likely be able to display full on 1080p video using Netflix.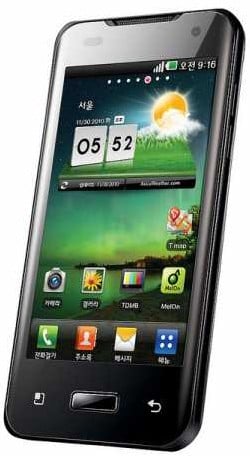 In addition it will feature a 4.3 inch glasses-free 3D display with 480 x 800 pixel resolution as well as dual 5-megapixel stereoscopic cameras for 3D video and photo capture. It will also sport an HDMI out slot, will be powered by Android 2.2 Froyo (although this could change at launch) and will also come with access to LG's special 3D store called LG 3D Space.
Release Date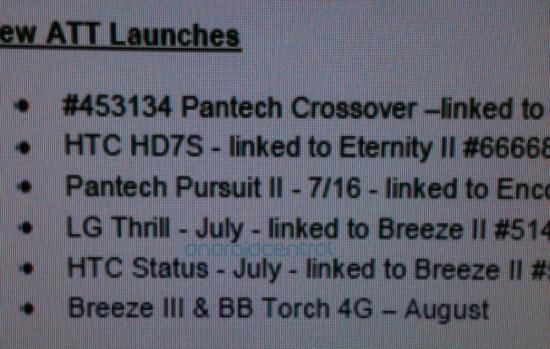 AT&T and LG failed to give us an official release date for the LG Thrill 4G when it was announced back in March. No release window, nothing. Then, at the end of the June, AT&T announced that it would be out at some point this summer. And today, we finally have a possible date for the Thrill 4G's launch on AT&T with evidence pointing to a release date in July. Unfortunately, we don't have a specific date yet but if it's coming out this month, AT&T will likely make it official at some point soon.
Hands-On Video
—
An in-depth hands-on video of the LG Thrill 4G courtesy of our friends at IntoMobile.
Features
Glasses-Free 3D Display: The LG Thrill 3D, like the HTC EVO 3D, will have a 4.3-inch glasses-free 3D display. There is a difference though, the Thrill 4G's screen only sports 480 x 800 pixels resolution.

TI OMAP4 Dual-Core Processor: And while it doesn't pack a high-resolution screen, it does have a speedy 1GHz dual-core TI OMAP4 processor which means it will likely support Netflix HD in the future.

1080p 2D Video Capture: The LG Thrill 4G will be capable of recording 1080p 2D video which is something that the HTC EVO 3D cannot do.
4G Speeds: As its name implies, the LG Thrill 4G will be compatible with AT&T's HSPA+ 4G network.

LG Thrill 4G vs HTC EVO 3D
The LG Thrill 4G is a 3D smartphone which means that it's going to be doing battle with the United States' other well-known 3D smartphone, the HTC EVO 3D. And while both are 3D phones, there are some key differences that separate the two devices from each other. First and foremost, while the HTC EVO 3D sports a S-LCD display with 560×940 resolution, the LG Thrill has a TFT display with 480×800 pixel resolution.
That means that photos, videos  and webpages are going to look much sharper on the EVO 3D. The EVO 3D also has a massive battery, 1730 mAh to the LG Thrill 4G's 1500 mAh battery. It might not seem like much but there will definitely be a noticeable difference.
They both have dual-core processors, the HTC EVO 3D with a 1.2GHz dual-core Snapdragon chip and the Thrill 4G with a 1GHz dual-core TI OMAP4 processor. So, the EVO 3D has a faster clocked processor but the LG Thrill might see Netflix HD support faster because the OMAP4 was the first processor given certification for it. That's a big plus.
And lastly, one thing that the Thrill 4G has over the EVO 3D is that its cameras can shoot 1080p video in 2D while the HTC EVO 3D is only capable of shooting 720p video. Not a game changer but certainly something to keep in mind especially if you're constantly shooting video.
Pricing
Pricing for the LG Thrill 4G is currently unknown but it would be shocking to see it cost more than the usual $199 with a new two year contract. That being said, AT&T might be smart to price it at $150 or so in order to better position itself against the EVO 3D on Sprint.
Hands-On, Review Videos
A demonstration of gaming on the LG Thrill 3D from PhoneArena.
—
Another good LG Thrill 4G hands-on video courtesy of SmartKeitai.
Thrill 4G Specs
| | |
| --- | --- |
| Networks: | GSM 850, 900, 1800, 1900 |
| Operating system: | Android 2.2 Froyo |
| Display: | 4.3-inch TFT display (480×800 resolution) |
| Camera: | Dual 5MP rear cameras with 1080p 2D video capture |
| Memory: | 512MB RAM |
| WLAN: | 802.11b, 802.11g, 802.11n |
| Bluetooth: | Yes |
| GPS: | A-GPS |
| Battery: | 1500 mAH battery |
| Special features: | Dual-Core Processor, 3D capabilities, HSPA+ speeds |
| Chipset: | 1GHz dual-core TI OMAP4 processor |
Photo Gallery

As an Amazon Associate I earn from qualifying purchases.