LG Thrill 4G Pre-Orders Begin at Radio Shack
The LG Thrill 4G for AT&T, the United States' version of the LG Optimus 3D, has been lurking in the shadows of the Motorola Droid Bionic and Samsung Galaxy S II for some time now but today, it has finally emerged (sort of) and is now available to those who waltz into Radio Shack outlets. According to evidence procured by Engadget, the 3D smartphone can be secured with by buying a $50 Radio Shack gift card. It's going to cost $80, not bad, on a new two year contract and will supposedly launch in the beginning of August with August 7th being the supposed release date.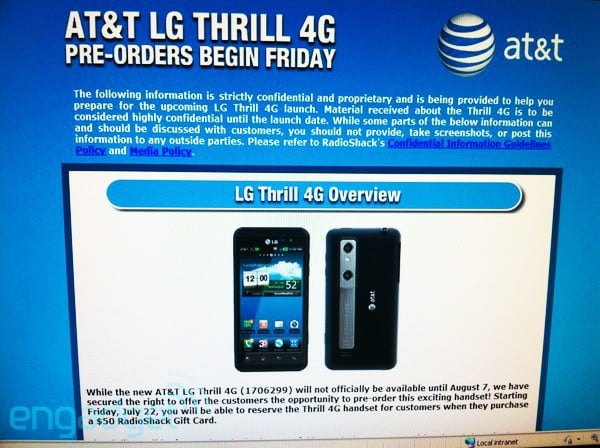 For those of you that dislike contracts, you can also snag the Thrill 4G for $550 off-contract but unless you have vaults of money, that's probably going to be too steep of a cost for most.
The LG Thrill 4G faces an uphill battle right from the get-go as it will definitely be launching after Sprint's HTC EVO 3D and will likely be launching right around the time the Motorola Droid Bionic arrives on Verizon. Throw in the fact that the Galaxy S II is supposedly coming to America next month and you can see why the Thrill 4G is probably not at the top of many peoples wish list.
If 3D is your thing though and you don't like the EVO 3D and its WiMax speeds, the Thrill 4G is probably going to be the phone you want to snag and luckily, you can do that today if you wish.

As an Amazon Associate I earn from qualifying purchases.