LG Thrill 4G Surfaces in Ad Showing Off $80 Price Tag
We're still not entirely sure when the LG Thrill 4G is going to be hitting AT&T but we now know that when it and if it decides to show its face, it might be sporting a more than affordable price tag at Target and possibly elsewhere as well.
Android Central dug up an ad from Target over the weekend and the LG Thrill 4G was listed for a mere $80 price tag with a new two year contract. For a new, Android phone with the Thrill 4G's specs, this is an absolute steal. For those of you hoping to get it off-contract, you'll probably be looking at a price of $550.
So, now that we have this rumored pricing and an ad, we have a feeling we'll see a release soon. After all, Radio Shack has had it up for pre-order for awhile now and it already missed one possible release date on August 21st.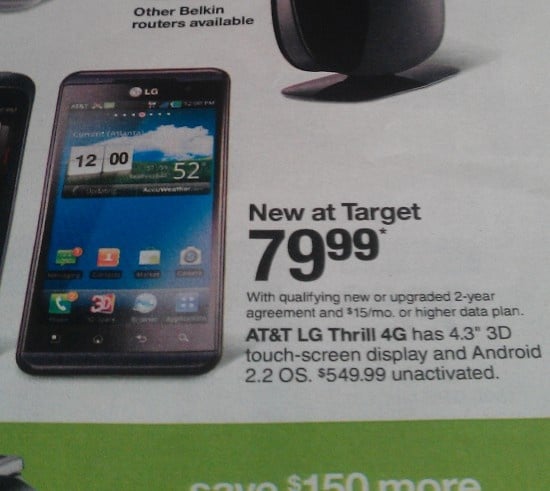 The LG Thrill 4G will be a Froyo-powered phone with a OMAP4 dual-core processor, dual-channel RAM, 4.3-inch TFT display, 5MP cameras for 3D capture, and more. Translation, a solid offering if LG has figured out how to launch a dual-core phone without major issues.
Cough, G2x, cough.

As an Amazon Associate I earn from qualifying purchases.