LG to Target High-End Android Phone Market with LG Star in 2011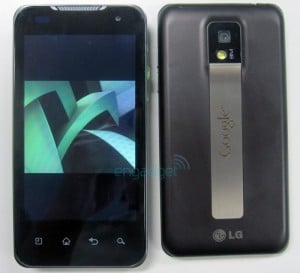 A leaked image of an LG Android smartphone model, believed to be called he LG Star, will show that the Korean handset maker will also be gunning for the high-end smartphone market. After having been success in the low-end Android segment with its Optimus phones for T-Mobile and Sprint (a Verizon Wireless and U.S. Cellular model are forthcoming) with over 1 million units sold in forty days, LG will be packing a lot more power to the LG Star with a promised NVIDIA Tegra 2 processor, which provides dual-core 1 GHz processing speeds.
In addition to the Tegra 2 chip, the LG Star is said to be running a stock or near stock version of Google's Android 2.3 operating system known as Gingerbread. Gingerbread, like the Android 2.2 version that it succeeds, will support Adobe Flash while adding some user interface refinements.
The device will also have a 4-inch screen, which is of the same size as that found on the Samsung Galaxy S, but the LG Star will probably not employ the Super AMOLED display technology that's on the Galaxy S. The LG Star will also have a front-facing camera for video conferencing, an 8-megapixel rear camera with the ability to record videos in 1080p resolution, LED flash, and a 1500 mAh battery. The ability to encode videos in up to 1080p HD resolution is a step up from the 720p HD resolution found on high-end smartphones today, such as the iPhone 4, the Galaxy S, and Motorola's Droid X.
Via: Android Guys