LG Tone Studio and Tone Free Neck Speakers Impress
A few weeks ago LG announced some truly unique headphones coming soon in 2017. Or to be more precise, neck speakers. Now that we're at CES to try them out, they aren't nearly as crazy as everyone originally thought. These are the LG Tone Free and LG Tone Studio wireless Bluetooth headphones.
The LG Tone headphone line is familiar to a lot of people. A band that wraps around your neck with attached headphones. Cutting out most of the cables, as you listen to music over Bluetooth.
However, the new LG Tone Studio is like a wearable speaker. Blasting music or movies over four speakers around your neck. Then we have some more traditional wireless headphones as well. Here's what potential buyers need to know about both new earbuds from LG Electronics.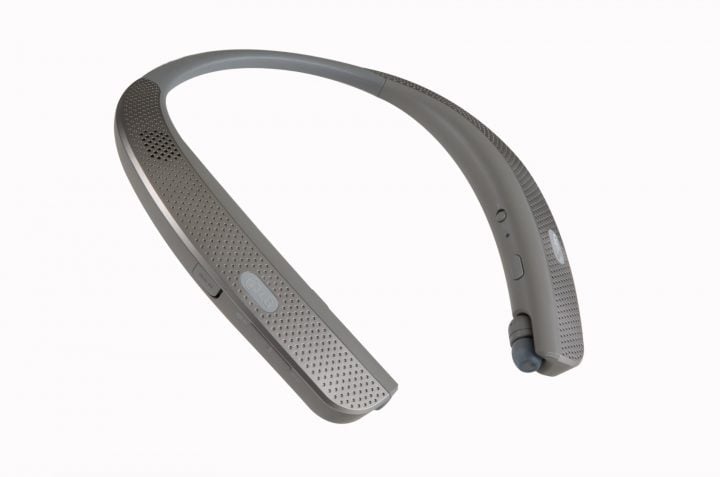 Of the two new devices, the LG Tone Free makes the most sense. Taking the same approach to truly 100% wireless headphones, but making it more practical for daily use. Not to mention easier to recharge. On the other hand, the Tone Studio is a bit crazy and weird, until you actually try them on and not only hear, but feel the sound at the same time.
LG Tone Free
The LG Tone Free is the company trying to offer fully wireless headphones. Similar to Earin or Samsung Icon X buds. There are absolutely no wires and the buds simply sit in your ear. Music is streaming over bluetooth, and they sound good too.
However, rather than just come in a little carry case (that recharges them at the same time) LG decided to deliver two options. Buyers will get the around the neck carry case, which looks like traditional around the neck headphones. This has a built-in 220 mAh battery to charge the headphones when needed. It also doubles as a carry case, makes them convenient and easy to find, not to mention haptic feedback and vibration for incoming calls or messages.
When you need your headphones simply pull them out of the neckband, insert each bud into your ear and enjoy. Everything from hands-free calling, music, movies and more. It's a similar product offering but with a different approach.
There's also a traditional carry case for those who'd rather not wear them at all times. Both the neckpiece and included carry case have built in battery options. Meaning no matter where the Tone Free buds are, they'll be charged and ready for use.
LG Tone Studio
Now comes the weird. When I first heard LG had "wearable audio speakers" I laughed. It sounds crazy, but they were a lot more impressive than I thought they'd be. And that's a response we received from just about everyone in the room.
As for the basics, LG has four speakers built-in. Two on the top for highs and mids, and two more on bottom for all that bass. Well, as much as they can fit in. There's also a vibration engine for haptic feedback, which actually made the Tone Studio extremely emersive. The surround sound engine was extremely impressive. See the video for more details.
They might look silly and will irritate those around you with sound, but they do what was intended extremely well. That isn't all either. LG thought of everything. Built-in are tethered and wired earbuds. Perfect for those moments where you can't blast music to everyone around you.
Simply pull out the included headphones and the sound transfers to where it should. Of course the included headphones aren't the best quality, but it gets the job done. Overall we were more impressed with the Tone Studio than expected. The Grand Theft Auto demo left us wanting more as each gunshot rattled the little haptic motor in the Tone Studio.
The entire idea around these is weird, but it works surprisingly well. Both headphones should be available sometime in March, and we'll update once we know about pricing. That said, the Tone Studio wearable speakers may come in at a price point just over $200. Stay tuned for more details.