LG V10: 5 Things I Learned on the First Day
The LG V10 is a unique smartphone with a lot to offer. Everything from two screens, three cameras, stunning features and a durable design unlike any other LG smartphone released to date. Here's what we learned about it after a good 24 hours of usage.
A full LG V10 review will take a lot of time, because this phone has so much going on. From a 5.7-inch Quad-HD display, a secondary 2.1-inch screen above it, three cameras, a fingerprint scanner, high-fi audio and tons of other things. LG decided to pack a little of everything into this high-end flagship smartphone. And we mean everything.
Read: LG V10 Release Date Deals Emerge
Earlier this year the LG G4 was released with a lot of praise and was one of LG's best smartphones ever released. However, after just one or two days with the LG V10, I can already recommend it over the slightly smaller option outright. It's nearly the same, but with tons of improvements across the board that makes it one compelling option. Even over the Galaxy Note 5, Google's new Nexus 6P and many other big smartphones.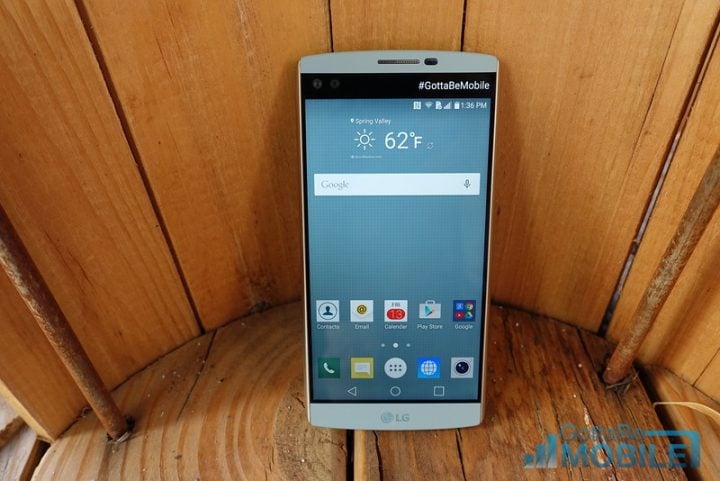 The LG V10 is available from Verizon Wireless, AT&T and T-Mobile, with Sprint passing on the stunning smartphone. It has some of the best specs and features of any phone released in 2015, and is surely one users will want to look at before making a smartphone purchase.
With that in mind, we wanted to share five or so things we learned after a little over 24 hours with the new LG V10 for potential buyers. Everything from the size, software, cameras, the new fingerprint scanner and second screen. It's truly a unique phone. First we'll start off with the spec list for those interested, then get into a few things we like and don't like about the phone for prospective buyers.
LG V10 Specs
5.7-inch 2560 x 1440 Quad-HD Display
2.1-inch 160 x 1040 Second Screen
6-core Snapdragon 808 processor with 4GB of RAM
64GB of storage and a micro-SD slot for expansion
16 Megapixel f/1.8 Rear Camera, Laser auto-focus, OIS, more
Two 5 megapixel front cameras for improved and wider "selfies"
Android 5.1.1 Lollipop
Rear buttons and new Fingerprint scanner in power button
3,000 mAh removable battery
Dura-Guard Steel Frame design
32 bit Hi-Fi audio
The LG V10 has a regular 5.7-inch screen up front that looks nearly as good as anything else available. However, sitting above it is another 2.1-inch screen full of useful features, which we'll talk about in a moment.
It might not have the latest 8-core processor or Android 6.0 Marshmallow, but it's still a very powerful and capable device. One that's just full of unique features that will wow buyers and impress friends. Now that the details are out of the way, here are a few things worth talking about after a day or so of using this thing.
It's Really Big
LG's new V10 smartphone is quite large, but at the same time, nothing that most users haven't tried before. Having a 5.7-inch screen and then another 2.1-inch screen means it'll certainly be big. Slim bezels help out, too. As a result it's nearly the exact same size as the Galaxy Note 5, but slightly taller because of that second display.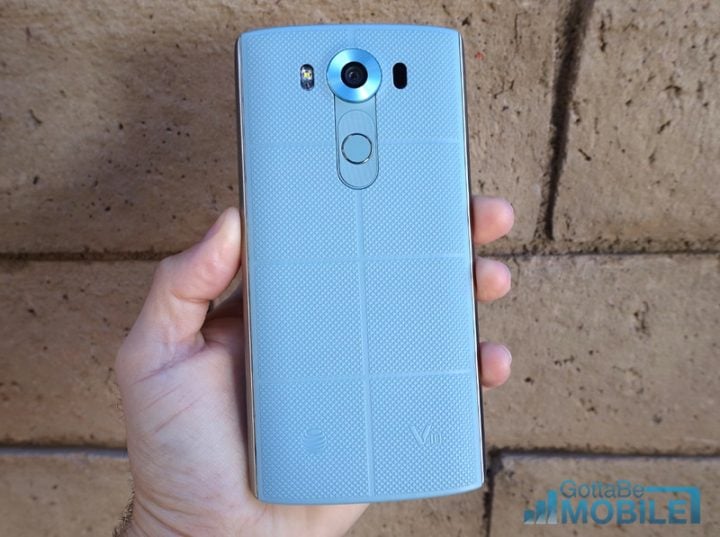 The LG V10 isn't as tall as the Nexus 6P, and it's not as wide as the Galaxy Note 4 or the Nexus 6 from last year. Meaning that while it's big, it's still easy to hold and use with one hand. They found the perfect balance in terms of size, mainly because of the thin bezels, and this phone is still very usable even though it's quite large and has so much under the hood. It's also pretty thick, and thicker than the Galaxy Note 5, even though mine has a slim TPU case on it.
LG has been leading the smartphone market when it comes to the small bezels on the sides and top of their phones, and the same holds true here. There's hardly any plastic on the top or bottom, and the front is nearly all screen, which is a good thing. It looks great, feels even better in the hand, and is easy to use with one hand. That's the important thing.
Looks and Design
While this phone may not be the prettiest or win any awards for the design, everything has a purpose. LG employed a new metal "dura-guard" steel frame around the entire device on the inside, and the outside. As a result the sides have a very comfortable yet durable aluminum framing in case it's dropped.
It also comes in five beautiful colors, rather than the typical boring Black or White, and the Aqua Blue model I have here looks very fun, playful, and again, unique. This phone is unlike anything else available. For better or for worse.
Then around back we have the familiar LG layout with the buttons on back. This helps the sides be small with no bezels as they don't have to place buttons there like most. Instead around back is the power button with a built-in fingerprint scanner, volume up/down keys, and that impressive 16 megapixel camera that's color-coated to the design. There's a two-stage dual LED flash, and LG's popular laser autofocus.
It has a very industrial look on the back with an odd texture, but that also helps make it extremely easy to hold. It isn't slippery, and users won't be dropping it like the Note 5. While we're on the design, it has a removable 3,000 mAh quick charging battery and a micro-SD slot for expanding storage. Something many look for in a smartphone ever since Samsung abandoned those features in 2015.
Fingerprint Scanner
This is one of LG's first smartphones to have a fingerprint scanner, which is a growing trend in smartphones. Everything from the iPhone, Samsung's lineup, HTC's new One A9, to even Google's Nexus 5X and Nexus 6P all have them. It's built right into the rear home button that LG users are familiar with, but sadly it doesn't work very well.
I've had the pleasure of trying almost every phone released over the past 4-5 years, and every one that has a fingerprint scanner. In 2015 though, many excellent options are available. The Nexus 6P is the fastest and easiest to setup and use, and the most accurate. Samsung is on par with Apple, according to who you talk to, and HTC's fingerprint scanner is average at best.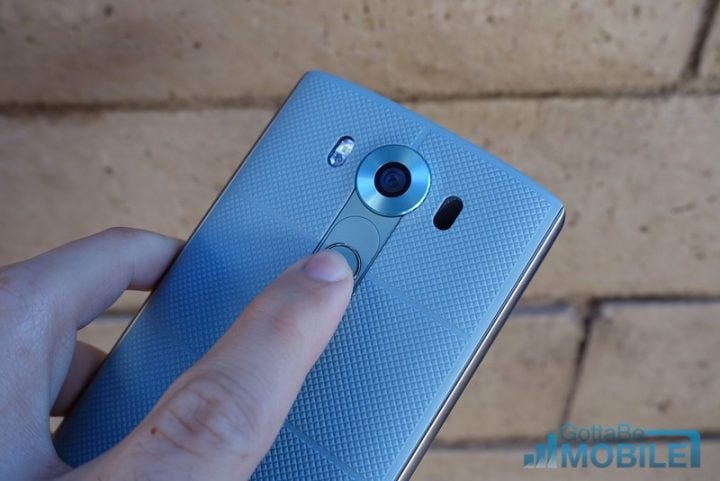 Sadly, the LG V10 has one of the worst fingerprint scanners I've tried in 2015. Maybe it's my unit, maybe I need to try again, but it doesn't work nearly as seamless, and it isn't very accurate either. It's a pretty bad effort.
If you were planning on buying the LG V10 simply for the fingerprint scanner, don't. It still has plenty to offer that makes it an excellent smartphone, but the fingerprint scanner is just one piece of the puzzle.
It took nearly 3x as long as Google's phones to setup and add a finger, I had constant errors, and it isn't as accurate. Then this last part can be a pro or a con. The Nexus fingerprint scanner works just by touching it even while the screen is off, as does Samsung's. With the LG G4, you have to click the home button. This turns on the screen, scans your print, and unlocks the phone at once. It isn't as accurate, easy to use, or as fast as Samsung or Google's method. It's still good, but not the best.
The LG V10 fingerprint scanner still delivers more security, a better Android Pay experience, and will likely get better with Android 6.0 Marshmallow, but so far it's average at best.
Second Screen
My favorite aspect of the device, aside from our last category, is the second screen on the top. We've seen this idea fail in the past, and at first it seemed like nothing more than a gimmick, but the more I use the LG V10 the more I enjoy it.
Like all LG phones, the V10 is highly customizable. From the on-screen keys, colors, settings menu and more, and now they have an even more customizable second display above the main screen. It can be set to always on, turned off, or activated with a tap just like a regular screen.
While the phone lies dormant on my desk not being used it sits in a low-power state displaying the time, date and battery, and a swipe to the left offers quick access (all in that low-power state) to volume controls, WiFi, the flashlight toggle, camera and more. Meaning users don't even have to turn on the phone to see the time, take a photo with the already great and fast camera, or turn on the flashlight.
Then with the LG V10 turned on the second screen comes to life. Some of the features are pointless and redundant, like quick access to apps that are already on the homescreen, but others, are very helpful.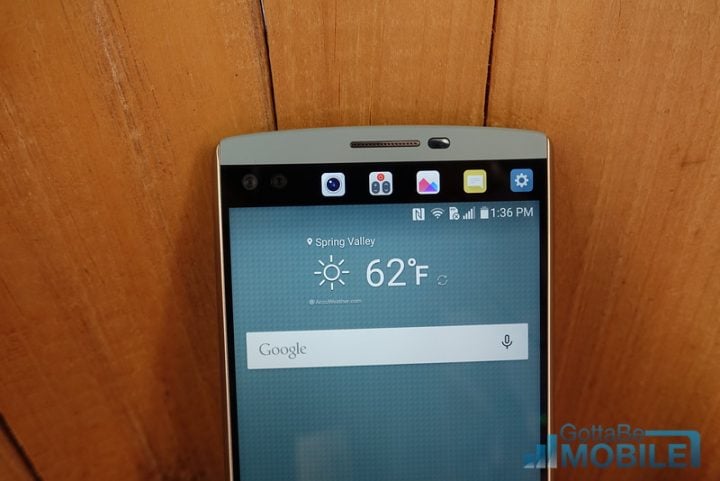 You can customize the message, we have our Twitter account, and a swipe over brings up pre-set customized apps, and another swipe are recently used apps. This makes opening favorite or recent apps easy, but Android already does this well. Of course this can be done on the homescreen, but it offers another level of functionality most don't. Except for maybe the Galaxy S6 Edge.
It's a neat concept that hopefully more apps can tap into with developers doing fun things. Thankfully though, almost every app installed on the phone can be shown on the secondary 2.1-inch display, instead of a select few, so that's a nice change. Samsung only allows certain apps on the "edge".
At first I figured it would just be a pointless gimmick, but the more I use the LG V10, the more I find myself instantly launching the flashlight, opening my favorite games, or messing with that second screen just because I can. We don't need it, but it's nice to have. Users are going to like it.
Battery Life & Cameras
And finally, we have battery life and the cameras. This phone has the same 3,000 mAh battery as the LG G4, but it has to power a bigger screen and more features. So far it held up through an entire day of heavy usage pretty well, but we'll need more testing. It does have quick charging, so that's a plus. It went from 0-48% in just 26 minutes.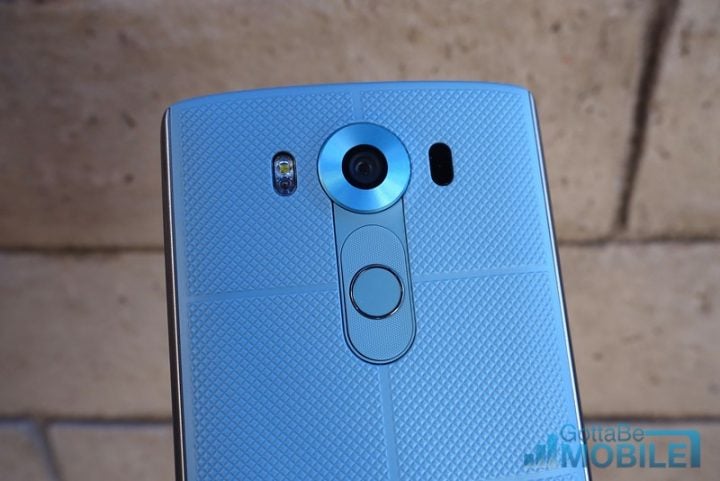 The cameras are pretty nice. It has the same 16 megapixel F/1.8 camera with laser autofocus and image stabilization as the G4, which is in the top five for best smartphones cameras. On front however, there are two 5 megapixel cameras for improved wide-angle selfie photos. In real life, the dual front cameras make a huge difference. Images are extremely crisp and clear, and it has a wider angle to fit more in. A group of 10 could take a selfie with ease. Something no other phone can do this quickly and easily.
Final Thoughts
There are so many things about this phone we'll need to dig through, that a full review will be coming later. For now though, it has been a pretty excellent experience. The LG V10 is extremely fast, fluid, and stable. The software is better than the LG G4 too. The custom skin over Android 5.1.1 Lollipop is paired down, simple, and fast.
I've never been a fan of custom skins, but LG has slowly but surely made theirs into a great experience. It's fast, user friendly, customizable, and it looks pretty good too.
The LG V10 is one of the most capable, unique, powerful and durable phones on the market. We'll need a lot more time with it, but so far we're impressed with everything on the surface. Aside from the average at best fingerprint scanner around back. Try one at a carrier store today, buyers might just like what they see.

As an Amazon Associate I earn from qualifying purchases.