LG Working on Phone With 1080p HD Display for AT&T
It looks like LG is working on a high-end smartphone for AT&T's 4G LTE network in the U.S. with a full HD 1080p resolution display. The phone, which may debut sometime in 2013, would have to compete against the likes of the HTC Droid DNA and the rumored Samsung Galaxy S IV for flagship king.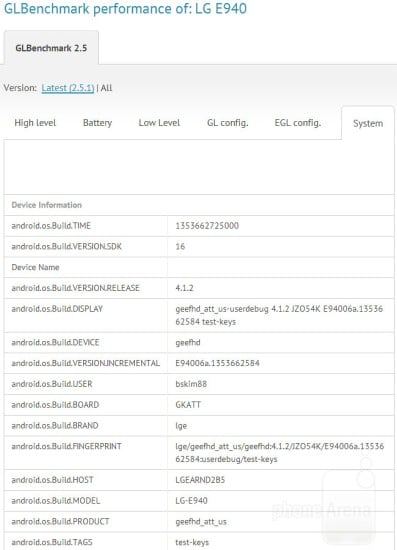 Little is known about the device at this time, except that the phone will carry the model number LG E940. The device's numbering convention places it between the LG Nexus 4 for Google and the LG Optimus G, with the former having an E930 number and the latter carrying an E970 designation. Still, with a 1080p display, it should outclass the Optimus G despite carrying a lower model number.
The phone was revealed as part of an early benchmark on GLBenchmark. As tested, the phone was running Android 4.1.2 and comes an Adreno 320 graphics, which according to Unwired View means that it would either be running a Qualcomm Snapdragon S4 Pro or S4 Prime processor.
As there are no known devices with a full HD 1080p display with a screen size less than 5 inches, LG's device may come with a display of at least 5 inches.
So far, neither AT&T nor LG has announced any news about the device and both companies may be waiting until either January's Consumer Electronics Show or February's Mobile World Congress trade shows to showcase this new flagship smartphone.