LG X3 Benchmark Shows Off Quad-Core Power
We're fairly certain that LG will be announcing at least one of four rumored devices at this year's Mobile World Congress and one of those phones figures to be the quad-core powered LG X3, a device that has leaked out before but did so in great detail today. MoDoCo was able to dig up some screenshots showing off benchmarks for the device confirming that the X3 is indeed an Android 4.0 device.
Now LG, for its part, has made it known that it will be showing off what it has in the pipeline for the beginning part of 2012 at this year's MWC. It hasn't, however, stated which devices it will be announcing.
Cue, NVIDIA and HTC.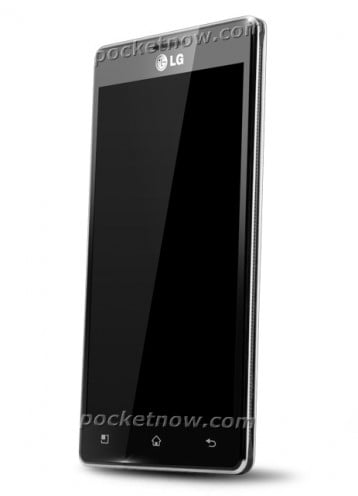 NVIDIA has confirmed that quad-core devices will be at this year's conference and HTC is highly rumored to be announcing the HTC Edge aka HTC Endeavor. So, an announcement at MWC is not out of the question. And neither are the specifications that are found on board the X3, some of which we have heard before.
(Read: HTC Edge Rumor Roundup: Features, Release Date, Carriers.)
Apparently, the device is going to feature a 4.7″ HD  display with 720 x 1280 resolution, NVIDIA's Tegra 3 Quad core processor which will be clocked at 1.4GHz, a massive 2000mAh battery, 16GB internal memory, microSD card slot, a 8MP camera with ultra fast shutter, a 1.3MP front facing camera, and finally, Android 4.0.3. Ice Cream Sandwich.
It's a beast of a device and figures to be LG's Android flagship smartphone going forward.
Also of note is that the version of Android that is running on the X3 seems to be fairly vanilla, meaning, it doesn't have LG's fingerprints all over it. If you're familiar with Android smartphones, you'd know that manufacturers love to put their own user interfaces over Android.
Keep in mind, this may not be the final version of software so it's possible that LG may end up putting a skin on the LG X3.
And finally, the benchmarks on the phone are impressive to say the least. The phone was able to pull down 4412 points during Quadrant testing, which, as you can see, absolutely blew the Samsung Galaxy Nexus and its dual-core processor out of the water.
This is going to be a high performance phone folks and we should know more when MWC arrives.
Via: Android Central

As an Amazon Associate I earn from qualifying purchases.