Logitech Smart Keyboard Review: All-in-One Remote for Home Theaters
Using a computer keyboard as your universal remote control for your entire home theater system seems implausible when you first think about it, but once you check out Logitech's Smart Keyboard, it will all make sense.
Logitech's Smart Keyboard remote is a wireless keyboard with a built-in trackpad that can control pretty much anything in your home theater repertoire, including your A/V receiver, Blu-ray player, gaming console, set-top box, and of course your television.
The company's Harmony Hub is what makes the magic happen, connecting the Smart Keyboard to all of your home entertainment devices using different wireless protocols, as well as connecting your iPhone or Android device to your home theater as well (more on that later).
For starters, let's look into the setup of the Logitech Smart Keyboard and see how easy it is to get the remote system off the ground.
Setup
Setting up the Smart Keyboard is fairly easy, but it takes about a half-hour to get completely set up (longer if you have more devices). I had only four devices to add, which included my television, stereo system, Xbox One, and my HTPC.
Unlike past Logitech Harmony devices, setting up your remote is done through the iOS or Android app, so there's no need to mess with the web interface on your computer. In fact, using the mobile app is the only way to set up the Smart Keyboard.
Luckily, the app makes it easy to set everything up and it uses an easy-to-follow question-by-question format to get your TV, receiver, disc players, and anything else set up with relative ease. Questions range from "What device controls the volume?" to "What input does your TV need to be on to play games?"
The only problem with this is that it can be time consuming to make your way through all the questions, considering that the app takes you slowly through the setup process (and not to mention a firmware update before you could even begin setting it all up), but we suppose this is good news, since Logitech wants to have everything right when you're finally ready to begin using the keyboard.
Everyday Usage
Overall, using the Smart Keyboard as my universal remote control is absolutely wonderful. Beforehand, I had a Logitech K400 that I would use to control my HTPC from the couch (which is actually the keyboard that the Smart Keyboard is modeled after, coincidentally). However, I still needed to have a remote control to turn the TV on and off. With the Smart Keyboard, I don't need the separate remote control since it can turn my TV on and off, as well as control the volume of my stereo system.
The Smart Keyboard sends these commands to the Harmony Hub, which is an IR receiver and IR blaster all built into one device, which means it receives commands from the Smart Keyboard (using RF wireless), as well as commands from the mobile app (over a WiFi network), and it takes these commands and blasts them out using IR to your various home theater devices, which receive and execute the commands.
Because the Smart Keyboard uses RF wireless to send commands to the Harmony Hub, the keyboard doesn't need to be in the line of sight of the Harmony Hub, so you don't need to awkwardly hold up the keyboard and point it at the TV in order to send a command.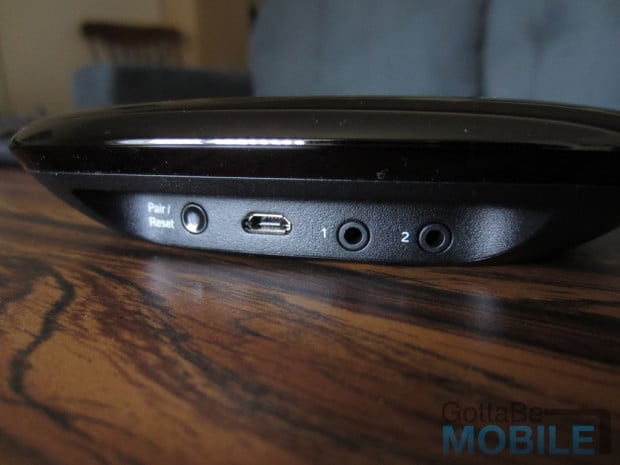 As far as controlling an HTPC or gaming console, you can either use Bluetooth or use USB receivers that come with the Smart Keyboard. You'll get two USB receivers in the box that you can use for any device that has a USB port on it. The nice thing about this is that you can use the Smart Keyboard with your Xbox or PlayStation console, making it easy to type messages to friends that you wouldn't be able to do as smooth and quickly otherwise.
While the mobile app is used to setup the Smart Keyboard, it can also be used to control your home theater devices. I've never been a fan of using a mobile device as a remote control, so I found myself not using this feature at all, most of the time.
Downsides
Before I finally got the Smart Keyboard working properly, there were a few headaches to work through. First, I discovered that it wasn't changing the input on my TV if I wanted to switch between watching television and playing a game on my Xbox One. I later found out that there's a setting that you have to change deep within the mobile app that allows you to change how the Smart Keyboard and Harmony Hub switches your TV's input.
Logitech doesn't say anything about this in their setup guide, so I'd imagine that a ton of users will get stuck on this if it happens to them.
Furthermore, when I went to press an Activity button on the Smart Keyboard (there are three buttons for different activities), it wouldn't turn on all of the devices that I had setup for the activity. At first, I thought it might be that the Harmony Hub couldn't reach these devices based on the location of the Hub, but a Logitech rep said to try programming the same activity to a different Activity button, and it finally worked properly. Don't ask me how this fixed the issue, but we'll blame on black magic.
Wrap Up
The Logitech Smart Keyboard is a must-have home theater accessory, but you'll first have to deal with the long setup time and any initial problems that you'll inevitably come across before you can properly enjoy using it.
Still, I prefer the Smart Keyboard over both a traditional universal remote and a separate keyboard for my HTPC. Having all of this built into one device is pretty much the perfect solution for me, as well as those who have an HTPC or even just an Xbox or PlayStation.

As an Amazon Associate I earn from qualifying purchases.