Logitech Ultrathin iPad Mini Bluetooth Keyboard Review
Logitech's Ultrathin iPad Bluetooth Keyboard has been a hot seller for quite a while, and the company decided that it was time to make their iPad keyboard even better by improving on a few qualities.
Logitech updated its Ultrathin Bluetooth keyboards for both the iPad Air and the iPad mini with a thinner and lighter design, as well as added the ability to adjust the angle of the iPad for a more-comfortable viewing experience while typing.
Attachable keyboards have always been a controversial topic, and it really comes down to preference and whether or not you would use a keyboard attachment rather than just a MacBook Air, but the Logitech Ultrathin could be a worthwhile accessory to carry around with you, especially if you don't have a laptop of your own.
Let's take a look at what makes this keyboard attachment so great, as well as discuss some of the negatives that I discovered while playing around with it.
Design
As mentioned, the new Logitech Ultrathin is lighter and thinner than the previous generation, clocking in at only 6.4mm thick and weighs just almost 8 ounces (compared to the iPad mini with Retina display's 11.7 ounces).
I got to play around with the white version of the keyboard, which was mismatched from my black iPad mini, but the silver and white color scheme matched my Apple Bluetooth Keyboard for my Mac nicely, so I couldn't really complain.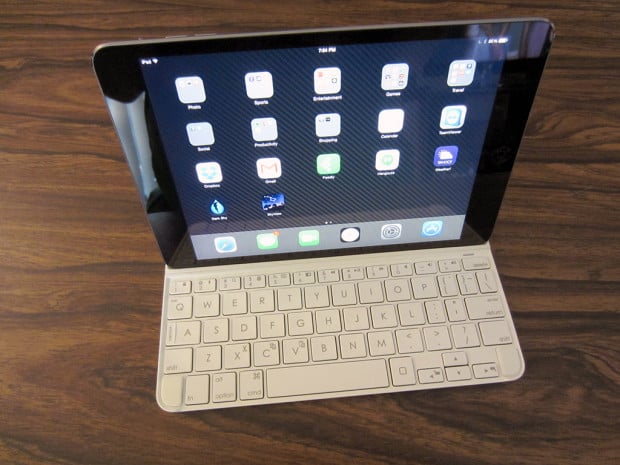 The keyboard is overly plastic with plastic keys and completely plastic top, but the bottom plate is made out of brushed aluminum, so it's fairly sturdy for the most part. However, I had no problem bending it to get it to flex a bit.
On the side, there's a Bluetooth sync button, a microUSB port for charging, and a sleep switch that essentially turns the keyboard on and off. Logitech boasts a 3-month battery life for the new Ultrathin, and while we haven't tested this, the company has usually been fantastic about battery life for a lot of its products.
Even though the keyboard is rather thin, it will still add a bit of thickness and weight to your iPad when you're carrying it around, but I was still able to barely squeeze it into my Incase iPad mini sleeve when I wanted to take my iPad with me, and that was really all that mattered to me.
The keys have a lot of different alternative functions, and you can execute many iOS commands right from the keyboard, including, cut, copy, and paste, selecting blocks of text, bringing up Spotlight Search, adjusting volume, and controlling media. The keyboard even has a dedicated Home button to go back to the home screen whenever needed.
And of course, the Ultrathin also acts as a Smart Cover of sorts, coming equipped with a magnetic clip that attaches to the edge of your iPad so that you can carry it around without a problem, and when you take it off, it'll automatically unlock your iPad, just like a Smart Cover would.
Usability
One of the biggest changes to the Logitech Ultrathin keyboard is the ability to adjust the angle at which the iPad sits. The tablet clips into its slot with magnets and from there you can tilt the iPad back quite a bit, although it won't tilt back as far as, say, a MacBook display. I found that tilting it back all the way was the perfect angle for me when typing and interacting with my iPad.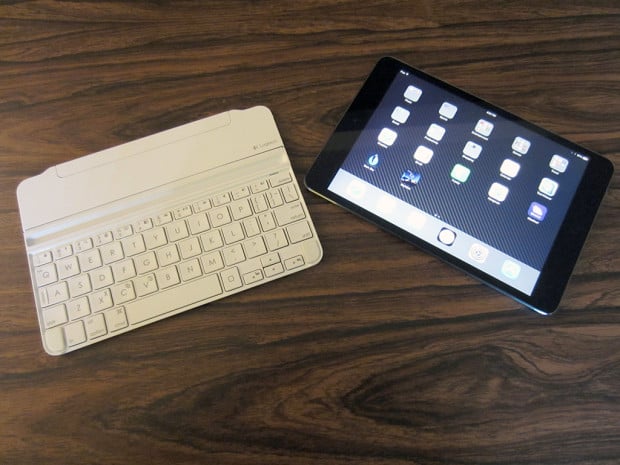 However, a big gripe that I have is that tilting the iPad back into its original angle takes a bit of work, and I feel like I'm going to break the keyboard by applying so much pressure to get it to tilt back.
The keyboard itself is nice, although you certainly give up some of the great features that you get with a full-size keyboard, namely larger surface area and better key travel. Since the Ultrathin keyboard is really thin, key travel isn't ideal, but it's also not that bad; I was presently surprised at how good the typing felt.
However, the iPad mini version of the Ultrathin is tiny. It takes some time to get used to the smaller, closer-together keys and you'll undoubtedly look like your Grandpa trying to type on a keyboard, but after about 10 minutes of typing, I found my groove and was able to type relatively normally.
Should You Get an iPad Keyboard?
iPad keyboards aren't for everyone. Personally, if I had something that I needed to type up while I was on the go, I would simply just use my MacBook, but that's only because I already take my MacBook with me wherever I go, so it makes sense just to use that.
However, my wife doesn't take her MacBook with her to most places, but she does her iPad, so a keyboard attachment would be a great accessory for her, especially since her job requires her to type up a lot of reports after she sees clients.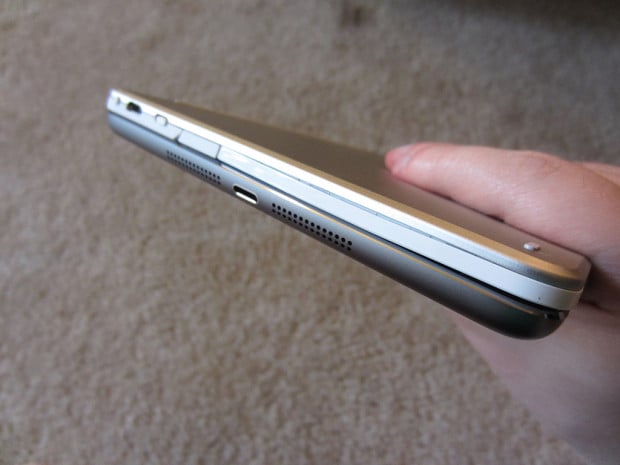 Using the on-screen keyboard isn't a terrible experience, but I've never met a person who prefers it over a physical keyboard, which makes keyboard attachments like the Logitech Ultrathin a logical accessory to have in one's iPad arsenal.
The revamped Ultrathin keyboard is priced at $99 for the iPad Air version, with the iPad mini version costing $10 less, and both models are available now.