Logitech Wireless Solar Keyboard Switches Between Mac & iPad In a Snap
The new Logitech Wireless Solar Keyboard K760 charges from the sun and ambient light and switches between Mac, iPad and iPhone with the push of a button.
The new Wireless Solar Keyboard is a smaller version of the solar-powered mac keyboard launched last August, ditching the number keys for a more portable form factor.
The keyboard doesn't need sunlight to charge, it can charge from ambient indoor light and holds a charge for 3 months, even in total darkness.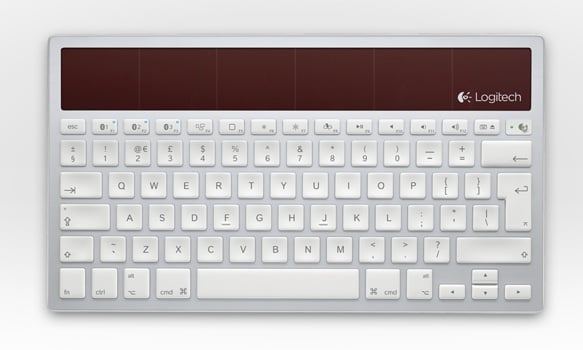 The Logitech Wireless Solar Keyboard K760 includes the standard Mac keyboard keys one would expect on a Mac keyboard, and the top row function keys work with the iPhone and iPad.
While i enjoy the solar power, my favorite feature is the fast Bluetooth switching. Instead of repairing or disconnecting, just press the corresponding Bluetooth button on the upper left of the keyboard and it connects to your Mac, iPhone or iPad.
This makes it easy to use multiple devices in one setting, or simple switch between your iPad and iPhone while on the road.
Check out a demo of the Logitech Wireless Solar Keyboard K760's fast Bluetooth switching in the video below.
I'm not sure how easy it will be to adjust to the oddly shaped enter key, but I hope to try this out in place of my Apple wireless keyboard sometime in the near future.
Read: iPad as a Laptop
The Logitech Wireless Solar Keyboard K760 retails for $80 and goes on sale in June.