Lynda Learning Review: Learn Technology Skills Online
Lynda Learning offers you professional quality video based technology instruction at a fraction of the cost of a formal education from a community college or tech conference.
I recently restarted my monthly subscription to Lynda.com so I could go through the videos about Aperture and Photoshop CS6 New Features. I'll view classes about the other Adobe Creative Suite CS6 applications now that I'm a Cloud Creative customer.
The monthly subscription can add up, but the vast library of instructional videos will transform your knowledge of advanced software and other tech subjects from an amateur newbie to a knowledgable expert.
When you start playing a Lynda.com video, you see a pop-up video player (see above). It uses typical video player controls with a timeline, play/pause and forward/reverse buttons. Along the lower left you get a volume slider and my favorite tool, the speed slider.
If the tutorial goes to fast, you can slow videos down a bit. You can also speed them up 1.5 or 2 times. I use the 2X mode a lot. That way a three-minute video plays in about a minute and a half saving me time. The instructors sound a bit like the Chipmunks, but I don't care how he sounds so long as he's teaching me the topic.
Lynda organizes tutorials in a series of videos called chapters. Each course will include anywhere between one and eight chapters. The player lets you turn on auto-play chapter mode so that it jumps from video to video without stopping. You can watch a whole chapter at a time or one video at a time. The player remembers your speed option when in chapter mode so you don't have to reset it with each new video.
I like that the site tracks your progress. Most people won't cram through a class in one sitting. When you return you can find your class by clicking on the "my courses" tab at the top of the site. Open your course and it shows your progress by changing the hyperlink color of video links you've already watched (see below). You also get the eye icon in the Viewed column.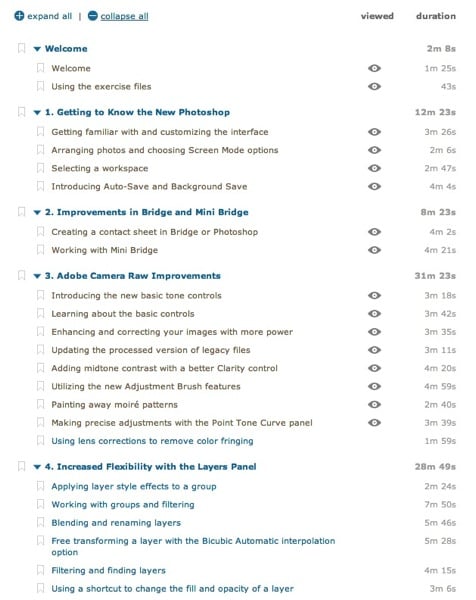 After you finish a class the site shows a certificate of completion in the "my courses" tab. I completed three courses as seen below about two years ago. I just signed up for a new subscription last month and haven't finished another class yet. That's one advantage. You can turn off your subscription if you pay monthly. Then sign back up months or years later and it still tracks your progress so long as you don't use different account credentials.
So far all the tutorial instructors I've experienced present the information clearly and keeping my attention. They know their topics better than most and offer wonderful tips that take you beyond the typical information form a software manual or help file.

Lynda.com offers two subscription levels and lets you pay each monthly or yearly. See the chart above. The cheapest plan, which I'm using, costs $25/month or $225/year. That saves you a month's fee if you pay yearly, but you can't suspend the course if you hit a stretch where you can't watch videos. With this lowest level you get access to the videos and the site track progress for you, but you don't get to use the course files. With the more costly Premium account you pay $37.50/month or $350/year. You get course files, which include things like pictures for photography related courses or documents for the office courses like the Pages course I took.
I don't miss the course files at all. In my photography software classes, I prefer to try the skills on my own pictures. Some courses might not work well without the files, but I haven't experienced one yet in six courses taken.
If you want to learn how to program, they offer courses ranging from simple Python programming language to how to build and make money-making games for iOS. I started taking the tutorial covering my new Nikon D5100 DSLR. I'm not finished yet, but I've learned a lot. Just search their database and you can find out if they offer a course in a subject you want to learn. Nearly all the courses cover technology subjects.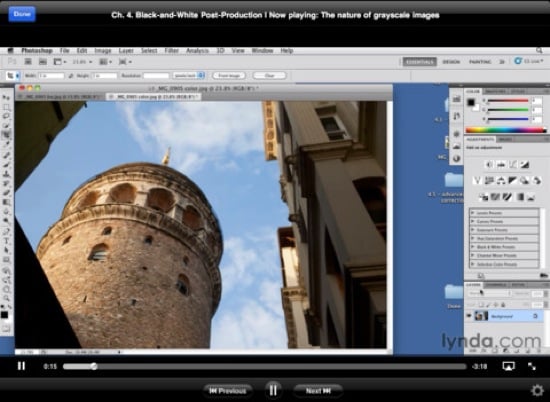 If you want to learn on the go, download the free iPhone or iPad app. I use it on my iPad and it works great. I can free up my computer for working in the program I'm learning while I watch on my iPad. Send the video over to an Apple TV using AirPlay. The app tracks your progress and syncs that progress with the website so you can watch on your iPad or iPhone then finish the course on your computer. If you prefer, you can also buy course DVDs and keep them long after a subscription would expire. They range in price from $30 to $100.
I recommend Lynda.com without any reservations. You can find free tutorials on YouTube, but not in this organized high-quality way. Each course comprehensively covers the topic. If you put yourself into it, you will learn.
You could save tens of thousands of dollars paying for a University education in computer science or computer graphics and learn to program on the site quicker than it takes to earn a Bachelor of Science.
My son wants to learn to program and do computer design to either make video games or animation. He can use Lynda.com to get started before he starts high school. If he does go to college to study, he'll know more than some of his classmates and he can supplement what he learns in class with the site.

As an Amazon Associate I earn from qualifying purchases.