New 11″ MacBook Air Review: First Impressions
The latest MacBook Air models went on sale today at Apple retail stores. With the demise of the white MacBook, the 11″ MacBook Air is now the most affordable notebook available.
I skipped the first generation of MacBook Airs due to their lackluster performance and sky-high prices.But Apple made me a believer in the MacBook Air last fall when it introduced the second generation MacBook Air. I quickly snapped up a high-end 13″ MacBook Air and it became my daily driver, replacing my 15″ MacBook Pro for most tasks. It is simply the best laptop I've ever used…until today.
I bought my first PowerBook 15 years ago and have owned several PowerBooks and MacBooks since. I've owned and used several PCs over the years, but Macs are the right tool for the job for my line of work and my digital hobbies.
Below are my first impressions of the device and a few photos. We'll be publishing a more thorough review of both the 11″ and 13″ MacBook Air soon.
Update: You can read part 2 of our MacBook Air review, which focuses on the 11″ MacBook Air's battery life.
$999, $1,199 or $1,649 MacBook Air?
You can of course customize a 11″ MacBook Air to your exact liking at Apple.com, but most shoppers will end up buying one of three retail models. The basic retail model costs $999 and comes with an Intel Core i5 processor, 2GB of memory and a 64GB flash storage drive. For $200 more you get double the memory and storage (4GB and 128GB). The $1,199 model is the sweet spot and what we recommend for most users, especially those who are at least somewhat price-conscious. For power users and Mac fans that just want to have the best, Apple offers a $1,649 version of the 11″ MacBook Air that packs 256GB of storage capacity and features a faster processor.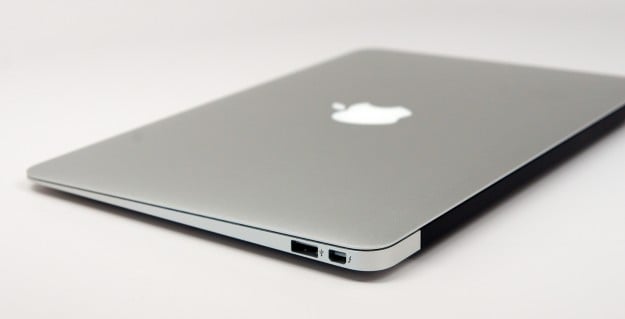 I opted for the $1,199 11″ MacBook Air primarily because of the 4GB of memory. Today's computer applications take up a lot of memory and I usually have several applications open at a time. The MacBook Air line is speedy primarily because of its fast solid-state drive (SSD) and other components, not because of its processor. That's why the 2010 MacBook Air felt incredibly fast despite having an aging Intel Core 2 Duo processor.
Would I have liked the slightly faster processor and twice as much storage capacity? Sure, but not for $450. The other thing to remember is that faster processors drain batteries faster. If you don't know why you should buy this model, you probably don't need it. Keep in mind that you can buy a well-equipped 13″ MacBook Air for $1,599, a savings of $50 off the top-end 11-incher.
The $999 MacBook Air is a good option for people who have relatively basic computing needs are will be using it as a secondary computer. With only 64GB of drive capacity, there simply isn't enough room to store a bunch of multimedia content or synchronize devices, such as iPods, iPhones and iPads.
MacBook Air Out-of-Box Experience
Apple's somehow managed to make the out-of-box experience even better. The new MacBook Air models are the first to ship with OS X Lion, the latest version of Apple's desktop operating system. It's even easier and faster to get up and running than with last year's MacBook Air.
Apple's welcome animation is gone from account setup and only the most pertinent information needs to be entered before you can get to a functional desktop and start launching applications. You can skip registration and there's no crapware offers or setup like we see too often on Windows PCs.  The desktop is void of any clutter and no software update reminders great first-time users.
Another change from last year is that Apple doesn't include a copy of the operating system on external media. Instead, Apple's hidden a recovery partition on the MacBook Air's drive that can be used to recover from a data disaster. This is a welcome move as recovery media, such as restore DVDs and the recovery USB included with earlier MacBook Air models, seem to hide when you actually need them. My 2010 MacBook Air's recovery USB drive has been missing in action since I unboxed the thing.
My Favorite Things
There's a lot to like about the 11″ MacBook Air, but here are a few of my favorites:
Even touch-typists can appreciate a backlit keyboard, which makes life a little easier when reaching for rarely used keys in the dark.
The 11″ MacBook Air is incredibly thin and light . At just 2.38 pounds, it makes my 13″ MacBook Air feel hefty.
The display is 'glossy', but it doesn't have edge-to-edge glass like the 13″ MacBook Pro. This means you can actually use the thing in well-lit rooms without being distracted by reflections or your own mug.
The keyboard is comfortable to use and the best I've ever used on a laptop this small.
There's plenty of power for everyday computing. Importing a couple of hundred RAW images from my camera card was speedy and iPhoto performs just fine. Sifting through photos and editing them is a pleasant experience.
The trackpad is as good as the trackpad on the rest of Apple's MacBook lineup. That is to say that it's superior to what you'll find on just about any PC.
My Least Favorite Things
As much as I like the MacBook Air so far, there are some things that bug me.
There's no SD card slot, which means I'll have to carry a card reader with me when I travel or go to conferences so I can import my photos and videos.
The relatively small SSD is already worrying me. Yes, I know I shouldn't complain considering I knew what I was getting into when I bought the thing, but storage capacity anxiety is already striking me.
OSX Lion is also causing minor headaches for me. I shouldn't have to figure out how to find my hard drive. I also don't like how Apple's switched the default scrolling direction.

As an Amazon Associate I earn from qualifying purchases.