Surface Laptop Release Date, Pre-Orders & Features
School systems around the world won't wrap up their learning calendars until this summer, but already Microsoft is preparing for when their students return to class this fall. The company is planning huge moves in the education market, an area where Windows 10 and its existing Surface devices don't have as strong a following as the company would like. Microsoft hopes that grades schools will purchase inexpensive laptops running its new Windows 10 S operating system. For college students and creatives, the company has something else in mind. Today it revealed the Surface Laptop.
The Surface Laptop's name describes exactly what it is. It's a notebook that opens from the front to reveal a trackpad, keyboard and 13-inch high-resolution touchscreen display. The company is hoping that this new addition to its hardware line-up will give users that liked the looks of the Surface Book and Surface Pro 4 something to get excited about, all without the hardware tricks that those systems offer.
Read: Microsoft Surface 2016: Everything New in 2016
The Surface Laptop could end up rivaling Apple's MacBook and MacBook Air while providing access to the same Windows 10 S operating system that Microsoft says it has built for ease of use and speed.
Surface Laptop Features
Surface Laptop Release Date & Pre-Orders
Surface Laptop Price
Why You May Want to Wait to Buy the Surface Laptop
Surface Laptop Features
The Surface Laptop is both all-new and very familiar. That is, its design is fresh from the minds of Microsoft's hardware team.
First, for the things that are different. Microsoft calls this the Surface Laptop because it truly is a laptop. There are new tricks or hidden productivity modes to speak of. Its keyboard isn't a cover like the Surface Pro 4's is. Its base doesn't detach from the display to reveal a thin tablet like the Surface Book does.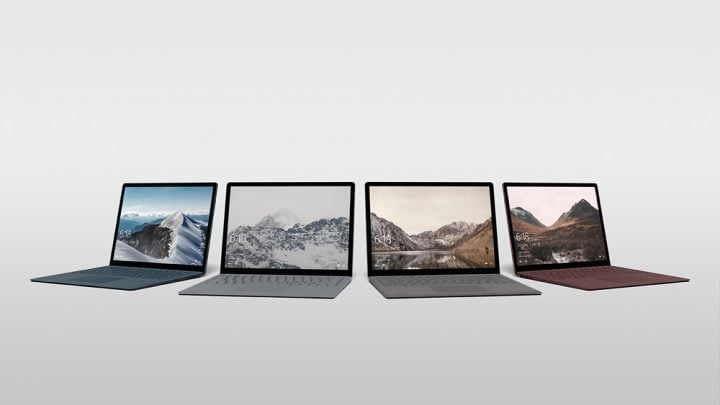 That doesn't mean that the Surface Laptop doesn't take hints from other things we associate Surface with. Its body is machined from the same magnesium that Microsoft's other devices are. The keyboard deck has an Alcantara surface and keys that match what's available from the Surface Pro 4 Type Cover. The Surface Laptop even comes in the same colors that the existing Type Covers do. There's a new hue too, Gold.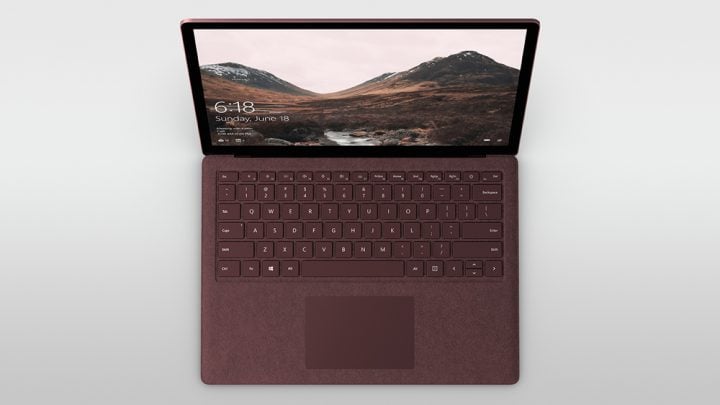 Read: 6 Best Surface Pro 4 Keyboards
Even with its 13.5-inch PixelSense display and .47-inch thick chassis, Microsoft says the Surface Laptop lasts around 14 hours before needing to be charged again. The notebook weighs 2.76 pounds. Ports are minimal, there's just a single USB 3.0 port, headset jack, Mini DisplayPort and Surface Connect port.
Every Surface Laptop is compatible with the Surface Dial, Surface Pen and Surface Dock. How much power you get depends on how much you're willing to pay.
Surface Laptop Release Date & Pre-Orders
Surface Laptop pre-orders are available as of today, though Microsoft isn't launching the new laptop just yet. You can place your Surface Laptop pre-orders at the Microsoft Store ahead of the device's June 15th launch date in the United States and some other territories.

Surface Laptop Price
The machine starts at $999 for a model that has 4GB of RAM, Intel HD Graphics 620 and 128GB of storage. This model only comes in Platinum. An enhanced version with the same Intel Core i5 processor as the first, 265GB of storage and 8GB of RAM costs $1,299. This upgraded version comes in Blue, Graphite, Gold, Platinum, Cobalt and Burgundy. Each has an Intel Core i5 processor inside.
The second set of models using the Intel Core i7 processors and Intel Iris Plus Graphics 640. The first model starts at $1,599 for 256GB of storage and 8GB of RAM. The second model has 512GB of storage and 16GB of RAM for $2,199. Both only come in the Platinum color that Microsoft showed off today.

Why You'll Want to Buy the Surface Laptop by the End of 2017
Microsoft is betting that users want a high-end Windows-equipped alternative to the MacBook Air and MacBook Pro. Windows devices outsell Apple devices by a wide margin, but they've never been able to amass the same profit and mindshare that MacBooks enjoy. Your first laptop for college helps define what type of user you are for years to come.
Read: Surface Book vs MacBook Pro: Which is the Best?
There's a pretty good reason to avoid the Surface Laptop though, and it involves Microsoft's new approach to education with Windows 10 S. The company's partners will use Windows 10 S to create very cheap laptops for schools. Unfortunately, Windows 10 S improves performance for schools by locking out apps not downloaded from the Windows Store. You get the performances boosts and lose the ability to download Spotify or traditional versions of Microsoft Office, for example.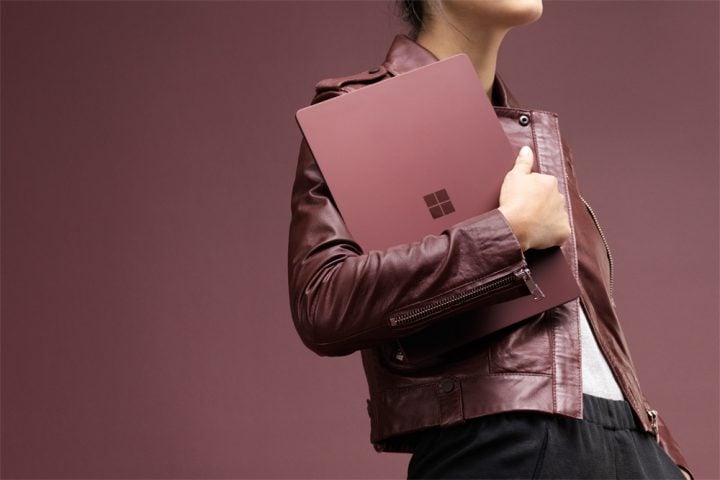 Developers can drop their programs into the Windows Store to get around this limitation. Microsoft plans to do this with its own Office apps this summer. Photoshop is already available there. Spotify will be there soon, the company says.
You want to buy your Surface Laptop before 2018 because Microsoft plans to let users get a free year of Microsoft Office 365 and an upgrade to Windows 10 Pro through the end of the year. Windows 10 Pro doesn't have the same restrictions that Microsoft imposes on Windows 10 S. You can download apps from the store and programs from the internet. In 2018, the company will begin charging Surface Laptop buyers $50 for upgrades to Windows 10 Pro.
Good luck with any Surface Laptop pre-orders that you place. By most estimates, the laptop is every bit the MacBook alternative Microsoft intended to make. Microsoft only briefly discussed the Surface Pro 4, its most successful Surface device to date. It didn't announce any upgrades for it.
10 Best Surface Pro Alternatives in 2020
ThinkPad X1 Tablet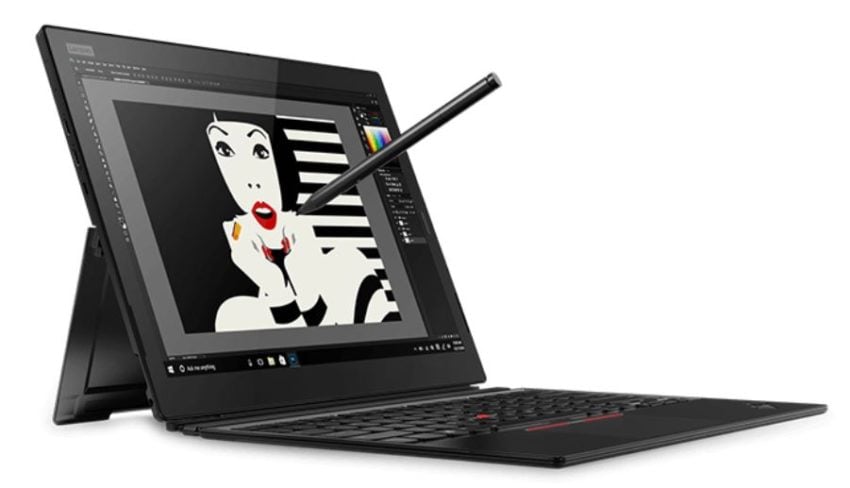 The ThinkPad X1 Tablet offers a lot of great features: a durable shell, an amazing display and Amazon's Alexa personal assistant.

The ThinkPad X1 Tablet has a 13-inch display. And, despite its good looks, the device has passed 12 military torture tests to ensure it can survive dust storms, cold temperatures, drops and spills. Finally, If you don't find Microsoft's Cortana personal assistant useful, the ThinkPad X1 Tablet has the same Alexa personal assistant your Echo smart speakers do. A Surface Pro won't survive a drop or spilled liquid and Cortana isn't as useful as Alexa is.


Read: ThinkPad X1 Carbon, X1 Yoga and X1 Tablet Have Stunning Display and Alexa


The third-generation ThinkPad X1 Tablet has powerful processors, plenty of RAM and other options. Models come with up to an 8th generation Intel Core i7 processor and 16GB of RAM. You won't get stuck waiting for web pages to load or your photo editor to process your touch-ups. If you don't like passwords, use the IR camera on the front of the ThinkPad X1 Tablet to sign into Windows. This 2-in-1 also has a fingerprint reader.

The ThinkPad X1 Tablet's screen detects 4,096 different levels of pressure from its digital pen. Besides that, it's a really detailed display. Windows, your videos and everything else you do on it looks crisp and detailed. Again, it's three times as sharp as an HD display.

Like other Surface Pro 4 alternatives, this Windows 2-in-1 connects to its included keyboard cover using a special slot on its bottom edge. It has Thunderbolt 3 ports for fast data transfers, a MicroSD card reader and a headset jack. With LTE connectivity, you can add the ThinkPad X1 Tablet to your smartphone data plan. You can't do that with a Surface Pro 4.