Mad Catz's New Controller Debuts on Android, Set's Sights on iPad
As part of its new GameSmart system Mad Catz announces its newest Bluetooth controller for a variety of devices today at CES.
The new Mad Catz C.T.R.L.R Wireless GamePad is the company's attempt at making a wireless controller that works across numerous devices. The controller uses Bluetooth 4.0 to connect to almost any device. The controller doesn't work on every device, though Mad Catz wants it to work with as many devices as possible.
The Mad Catz C.T.R.L.R Wireless GamePad looks a lot like the Xbox 360 controller down to the placement of the analog sticks and shoulder buttons. That means it's easy for gamers to know where everything is on the controller as soon as they pick it up.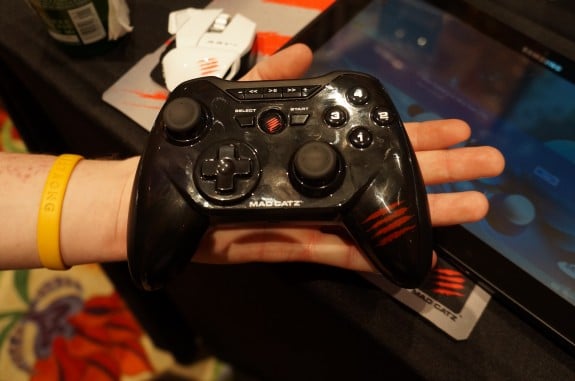 Mad Catz promises the C.T.R.L.R will work with any Windows 8 device and a number of Android devices. Unfortunately, the controller doesn't work with all Android devices or any iOS devices because neither Apple nor Google enabled the API required for it to work on the platforms.
Because the Mad Catz C.T.R.L.R Wireless GamePad connects to tablets, phones and computers via  low-power Bluetooth 4.0 the controller, the company claims it can last for 3000 hours of gameplay on just two AA batteries. The best controller battery life aside from the Mad Catz controller is the Wii Pro Controller that lasts for 80 hours on a single charge.
Eventually Mad Catz hopes its Bluetooth 4.0 controller will work with nearly any device on the market. The company is working with the games and mobile industries to create a standard for accessories, but that seems like it could take a long time if it ever does happen.

This article may contain affiliate links. Click here for more details.