Madden 12 for iOS and Android on Sale Ahead of Super Bowl
We're just days away from one of the biggest sports spectacles in the world, that being the Super Bowl, and EA has seen it fit to celebrate with a price drop of Madden 12 for both iOS and Android. Normally, you'd have to shell out five dollars for the app but the versions for Android and the iPhone are currently on sale for the low price of 99 cents. Not a bad deal in the slightest.
I've played the game in the past, I wouldn't buy it for $5. However, I have to say, I would definitely consider buying it for 99 cents.
Now don't expect the same game as Madden for the Xbox or Playstation. iOS and Android applications are good but they aren't on that level just yet. It has all the teams and players but the game play is a lot thinner than it is on the consoles.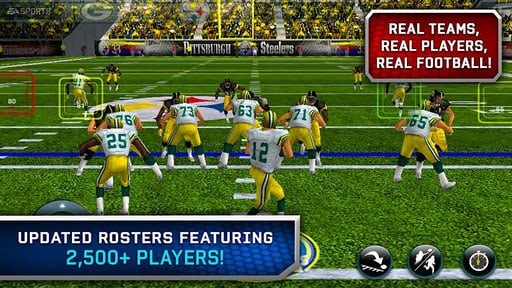 So, just keep that in mind before you buy it.
While the app should be available for most Android phones but there is one big one that currently lacks support and that's the Samsung Galaxy Nexus.  I tried firing it up a few days ago and was turned back when I got to the Android Market.
A huge bummer for those of you with a Nexus that want to get in on some cheap, football action but hopefully EA decides to support in the near future. We doubt they will though, seeing as the season is almost over.
For those of you with an iPad, the price cut isn't as good, it's only 55% off the original price. That means you're going to have to pay out $2.99.
Not so bad right?
Speaking of the Super Bowl and mobile devices, you'll want to check out our guide on how to watch the Super Bowl on your Android or iPhone. That way, you'll be able to fire up the game, and play Madden 12 during the breaks.

As an Amazon Associate I earn from qualifying purchases.