Madden 16 Release: 5 Details to Expect at E3 2015
At E3 2015 we will learn new information about the Madden 16 release including new features and out first look at the new Madden 16 gameplay. EA confirmed that we will see new Madden 16 details at the E3 press conference on June 15th.
The big focus of Madden 16 is on making you the playmaker, so expect to see this continue into the new Madden 16 gameplay trailer and  announcements.
Read: Early Madden 16 Release Date Confirmed
EA plans to let gamers watch the Madden 16 announcement and the rest of the EA Sports E3 2015 press conference live at 1 PM Pacific, 4 PM Eastern on June 2015.
The Madden 16 release date is set for August 26th and you can count on savings of $10 to $22 already thanks to an early Madden 16 deal with pre-order. Madden is coming to Xbox One, PS4, PS3 and Xbox 360. There is a standard version for $59.99 and a deluxe edition with added Madden Ultimate Team bonus packs for $10 more.
Here's a quick look at what we expect from Madden 16 at the EA Sports E3 2015 press conference.
Madden 16 Gameplay Video
The first Madden 16 teaser trailer didn't delve into the actual gameplay. Instead the trailer shows a huge focus on air supremacy and being the playmaker.
At E3 2015 expect to see EA show off a Madden 16 gameplay trailer that highlights upcoming features in the game. Last year half of the trailer focused on a lead up to real gameplay, but soon after we saw a bigger Gameplay demo from other publications who were able to play Madden at E3.
At E3 2015 we expect similar Madden 16 gameplay videos that show off new details and a walk through with developers.
New Madden 16 Features
The Madden 16 release date is 70 days away, just over two months, so E3 2015 is where we will see a lot of new Madden 16 features revealed.
We may see some added features revealed closer to the release, but EA Sports will use this event to showcase almost all of the new Madden features. The biggest look at these features will come after the press conference when some one is able to share a recorded game of Madden 16, similar to the one below.
EA will also outline what's new in Madden 16 on the Madden website with new Madden 16 screenshots that show off what to expect.
Reasons to Buy Madden 16 on Xbox One & PS4
Even though Madden is coming to PS3 and Xbox 360, there will be reasons to buy it on the newest consoles. Last year Madden delivered several upgrades only on the Xbox One and PS4 and we expect to see this happen again in 2015.
The enhanced power of the PS4 and Xbox One allow EA to deliver better artificial intelligence and better looking graphics that lead to a game that is better overall on the new consoles.
Last year better play calling, a defensive camera mode, CoachGlass, defensive line jump and smarter defense marked the reasons to buy on PS4 and Xbox One. Look for similar upgrades to smarter players coming as exclusives to Madden 16 on the Xbox One and PS4.
How to Play Madden 16 Early
There was no Madden demo last year and we might not see a Madden 16 demo release this year either. What we do expect to hear about on stage at the EA press conference is new information about EA Access.
EA Access is a Xbox One exclusive program that lets gamers play new EA releases up to five days early for six hours of gaming time. This is $5 a month or $30 a year and includes access to the EA Access vault with full versions of many games including Madden 15.
EA did not yet confirm Madden 16 for EA Access early play, but it is something we think the company will specifically mention on stage.
Madden 16 Competition Details
For the first time in several years there is real competition to Madden 16. Joe Montana Football 16 is coming this fall to deliver a new alternative to players who are not happy with EA's sometimes iterative upgrades.
Joe Montana Football 16 is set for a reveal at E3 2015 after months of teasers and small details. 1080Players reports that the Montana Football 16 appearance is on track for E3 2015.
We don't know the Joe Montana Football 16 release date is unknown at this time, but count on an arrival near the Madden 16 release date.
Madden 16: 7 Things EA Needs to Fix
Interceptions & Turnovers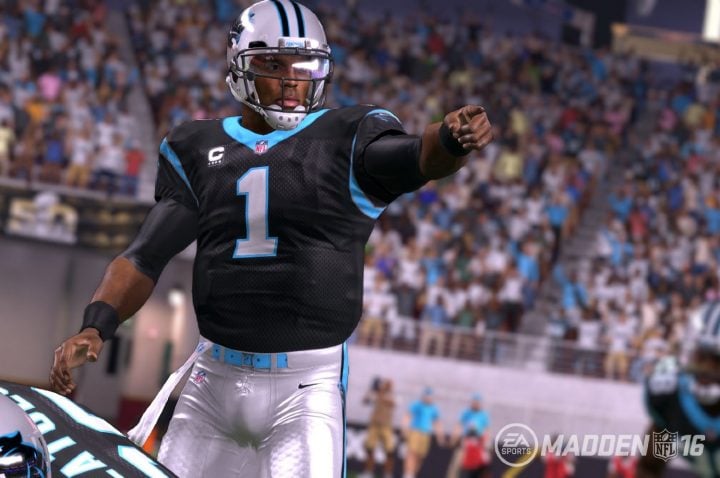 EA Sports needs to deliver a better mix of turnovers and interceptions in Madden 16. While playing hours of Madden 15 the number of unexplainable interceptions and other turnovers was too high. Some games it was impossible to make a single throw without an interception while playing. We also ran into our fair share of fumbles where the player literally turned and tossed the ball back and away with no one around.
There is hope that EA heard our complaints and plans to fix this in Madden 16. With a combination of Touch Control Passing and new receiver and defender Controls we are hopeful that EA fixed the randomness of interceptions, and adds some skill to both sides of the passing game.
We know that interceptions happen and that we will fumble at key moments, but Madden 16 can do a better job of normalizing the occurrence of turnovers and putting more control in the hands of the player.

As an Amazon Associate I earn from qualifying purchases.