Madden 16 Release: 5 Things You Need to Know
The Madden 16 release date is official and we are learning new details about the Madden 16 release each day as EA trickles out new information and kicks off the Madden 16 cover vote.
It's early in 2015, but we want to share 5 things you need to know about the Madden 16 release that is coming this fall. After a return to the year based naming scheme with Madden 15, the new 2015 Madden arrives with a 16 in the title which is sure to confuse parents, but not many gamers.
Although you can count on a new Madden game every year, it is great to finally see some official information about the game and what gamers can expect for 2015.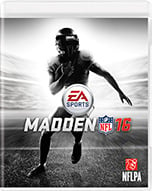 The Madden 15 release delivered an upgraded training mode with challenges, a vastly improved Madden Ultimate Team and a number of changes to the gameplay.
With Madden 16 we already know one area that EA will focus on delivering a new experience, we know when you can play and we have a good idea who can play Madden 16 early.
Read: PS4 Tips & Tricks
There is still no NCAA 16 release planned this year, but there is finally some Madden 16 competition that will allow gamers to choose between trading in Madden 15 for Madden 16 and trying a new football game.
Here is what you need to know about the Madden 16 release date and the overall release.
Madden 16 Release: 5 Things You Need to Know
Madden 16 Release Date
The Madden 16 release date is August 25, 2015. That means you need to wait a few months before you can play, but at least there is a specific date. We are still waiting for a FIFA 16 release date announcement.
You can count on a few Madden 15 trade-in deals, midnight Madden 16 release date events and a lot of hype for the game.
Madden 16 is coming to Xbox One, PS4, Ps3 and Xbox 360. There is no Madden 16 Wii U release in the works, nor is there a PC version.
You can pre-order Madden 16 now, but it might be worth waiting to see who offers the best bonus items and if there is a special Madden 16 Ultimate Team edition again this year.

As an Amazon Associate I earn from qualifying purchases.