Majority of Americans Now Own Smartphones
U.S. smartphone adoption has grown significantly with the majority of Americans now owning a smartphone compared to a basic feature phone. Pew Internet shows that 53% of American cell phone owners now have a smartphone as of February 2012. The survey finds that 88 percent of Americans own a cell phone, so that figure places smartphone adoption at 46 percent for the entire U.S. adult population, and not just cell phone owners. The number is up from 35% in May 2011.
Taken together, just over half of cell owners (53%) said yes to one or both of these questions and are classified as smartphone owners. Since 88% of US adults are now cell phone owners, that means that a total of 46% of all American adults are smartphone users. Two in five adults (41%) own a cell phone that is not a smartphone, meaning that smartphone owners are now more prevalent within the overall population than owners of more basic mobile phones.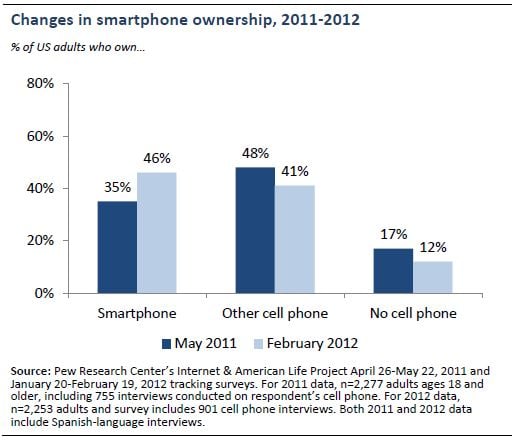 Pew's research study also found that Android and iOS adoption are nearly equal, with both Google and Apple platforms neck and neck. Pew found that 19 percent of users use iOS and 20 percent use an Android smartphone. The finding is interesting as reports that Android, which is supported by more manufacturers with more models on the market, are outpacing growth of iOS in the market recently may not be accurate.
20% of cell owners now describe their phone as an Android device, up from 15% in May 2011
19% of cell owners now describe their phone as an iPhone, up from 10% in May 2011
6% of cell owners now describe the phone as a Blackberry, down from 10% in May 2011
Smartphone penetration spans across all demographics. Regardless of age, ethnicity, gender, education, or income, smartphone is on the rise. Additionally, with more advertisements and campaigns behind smartphones and the respective platforms, more people are becoming aware of the term smartphone and can readily identify if their phone is a smartphone: "As smartphone ownership has become more widespread over the last year, consumers have generally found it easier to answer questions about their phones and whether they own a smartphone or not." Still, it seems that at least 8% of phone owners don't know if their phone is a smart one or not.