Market Helper Makes Apps Compatible When Play Store Says Otherwise
An app called Market Helper helps users download apps from the Google Play Store, even if the store reports the app as incompatible with the user's phone.
When a user finds a great app they want to try, the Play Store often disappoints by reporting apps as incompatible. This often occurs for arbitrary reasons, such as the app maker not wanting users to run the app on certain hardware. At other times this happens only because the developer didn't test it on some hardware. In these latter cases Market Helper can help users install such apps.
If apps won't run because the hardware can't handle the demands of the app, Market Helper won't help overcome technical incompatibilities (such as the ones shown in the green graphic to the right).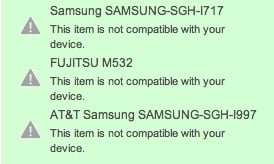 Android users can only get the app from the developer's site. It's not in the Google Play Store.
The dev's site promises it won't harm the device on which its installed because it doesn't change any OS files. The app makes the process simple. The user won't need to reboot to make the temporary change. However, to go back, the user will need to reboot their device.
Market Helper works on devices running Android 2.2 or higher. The developer reports testing it only on the Google Nexus 7 and Samsung Galaxy S3, so it might not work on all devices. Comments on the app's post explain that it works on many other devices, but not all. Other users were able to run it only after some tweaking, so be sure to read the comments if problems using Market Helper arise.
The instructions for using the app state that users should download the app from the developer's site. Open it and select a device to fool the Google Play Store into identifying as compatible. Press activate and then visit the Google Dashboard, which automatically updates this change. Then go to the Google Play Store to download a previously incompatible app.

We'd love to hear from anyone who installs Market Helper and then downloads a previously incompatible app. As the developer site says: use this at your own risk.