May The DROID Be With You! R2-D2 Droid 2 Coming Sept. 30th.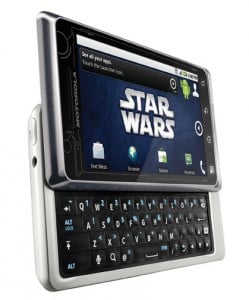 Verizon announces today via Press Release that they will be offering the highly anticipated limited edition DROID R2-D2 on September 30th, 2010. It will be available online and in select stores on this date. It will come packaged in a custom box resembling carbonite and will also include a Star Wars media dock and wired stereo headset.  In addition, the DROID R2-D2 will come preinstalled with a handful of custom content:
R2-D2 notification sounds and ringtones
Four live wallpapers
R2-D2 Clock Widget
"The Best of R2-D2" video with the original Cantina music
Exclusive Binoculars App
Star Wars Mobile App
Bounty Hunt Visual ID: Find and capture images around the Star Wars universe to unlock hidden content
Sound and Photo Gallery
Trivia Challenge: Answer trivia questions about The Empire Strikes Back
Widgets
This special edition DROID will set you back $249 after a $100 mail-in rebate with a new two-year contract.
This is the phone that has been leaked and rumored for a few weeks already, but the press release dated today confirms the date and price. Here are a couple of leaked videos from Droid-Life.com that show the live wallpapers and startup.
I think Verizon has really hit a serious home run in the marketing department with the entire "DROID" series of phones and advertising. I wonder what percentage of average, everyday users actually knows that the OS behind their fancy named phone is actually Android? What do you think about Verizon's marketing of the Droid?
For more info about the DROID R2-D2, head over to droiddoes.com/r2d2.

As an Amazon Associate I earn from qualifying purchases.