Meet Mip: The App Controlled $99 Robot
MiP is a brand new gesture and app controlled robot announced and being shown off at CES, and the best part is, you'll be able to get one exclusively at Best Buy starting in May.
The robotics company WowWee was here at CES 2014 showing off this latest fun little toy innovation at ShowStoppers, and we took a moment to snap some photos and record a short video of the balancing dancing robot in action. Being able to balance with ease, dance, and respond to a variety of claps, hand gestures, and tons of other programmable movements, it looks like a fun little gadget.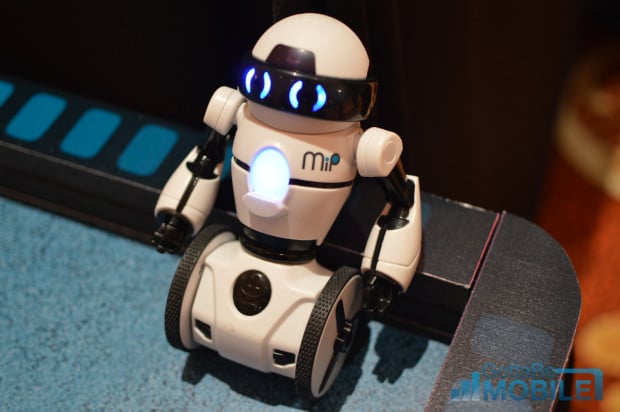 That isn't all though, the MiP doesn't just do pre-programed movements, you can use hand gestures to get it to move right or left, go back or forward, or start dancing. A simple twist of one of the wheels will change modes, displayed by simple to understand and teach to kids colors on MiP's chest. The best part is the pairing mode to a bluetooth device such as your iPhone or Android smartphone.
One paired MiP can be controlled by an app with your smartphone, and even stream music right from your playlist. While streaming the music from his on-board speakers MiP will dance to the music and beat, and if you've bought more than one they'll dance together. Here's a quick video demo showing off a few of their moves.
Once you pair two MiP robots to different smartphones there's multiple other movement options like boxing, allowing the little friendly robot to battle others, and a good punch will knock MiP down with a KO.
It's a simple toy that should be easy for kids of all ages to use. WowWee claims to have plenty of additional features and modes coming soon to MiP before he officially hits Best Buy shelves starting in May for only $99.