Messenger Brings The Best Part of Facebook Home To All Android Phones
Facebook Home arrives on Android today for a small number of devices, and Chat Heads, arguably the best feature of Home, is now available for all Android users.
The latest version of Facebook Messenger brings Chat Heads to any Android phone, giving all users the chance to have their messages pop-up over any app they're using. The feature makes it easier to carry on a conversation while reading email, playing a game or doing anything else on the phone.
Chat Head messages appear as circles with a friend's face inside them on the right edge of the screen by default, with a short preview of the message.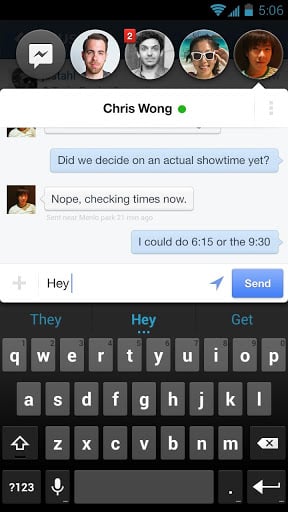 Tapping on the circle will open the message on top of whatever app is already open. From there users can send a message, then just swipe up and return to their app. The Chat Head will stay on the edge of the screen and notify the user when there's a new message so they can respond quickly.
Multiple Chat heads will simply stack on top of one another, and users have the option to move the circles around on their screen as they desire. To get rid of Chat Heads, just drag them down to the bottom of the screen to dismiss them.
Facebook Messenger can handle SMS messages in addition to Facebook messages, so users can use Chat Heads for most of their conversations on their phone. Unfortunately, Facebook Messenger doesn't let other services tap into Chat Heads, so it won't support Google Talk or any other IM service.
There are a few downsides to Chat heads in that it won't let users download photos shared over MMS or Facebook messages and it can obscure part of the screen. Some might be willing to make those small trade-offs for the ability to carry out conversations without constantly switching apps, however.

As an Amazon Associate I earn from qualifying purchases.