MetroRadio: Unofficial Pandora App Released for Windows Phone
Those on Windows Phone now have another app to look forward to. While Pandora itself isn't officially available on Microsoft's growing platform, a third-party developer had stepped in to fill the void for those who want free streaming radio with personalized listening in the form of MetroRadio, which taps Pandora's streaming service. According to Marketplace for Windows Phone, Microsoft's official app store for the platform, here is the description of MetroRadio:
"MetroRadio is the first Pandora 3rd party application on Windows Phone 7. The app has all the important features from Pandora, such as: Streaming stations, liking/disliking songs, making new stations, album art, and many more… This app is Mango optimized; it will run in the background. This app will be updated periodically, introducing new features such as pinning stations, auto login, etc…"
MetroRadio is now available as a free download.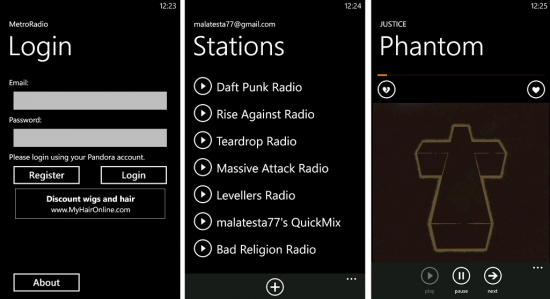 Though Windows Phone trails its larger rivals iOS and Android in the form of the number of apps, the platform is growing in terms of support for popular content, apps, and services. When the platform debuted, Microsoft was strategic in courting big name partners, like Netflix, Kindle, and others. With third-party Pandora available, it's one less thing consumers will have to worry about if they're pondering a switch from the iPhone or any number of Android devices to a Nokia, Samsung, LG, or HTC Windows Phone 7 handset.
Via: WP Central