Microsoft Announces Wedge Keyboard and Mouse for Tablets
With the first wave of Windows 8 tablets, including the Surface, coming on October 26 Microsoft has a new wireless keyboard and mouse combo to work well with the new devices.
The new Microsoft Wedge Mobile Keyboard is a standard Bluetooth keyboard with a cover that doubles as a tablet stand. Microsoft's Surface doesn't need the extra stand, but other tablets might. The stand is also handy for use with the iPad and Android tablets which the keyboard also works with.
The Wedge Mobile Keyboard has specific keys for Windows 8 and Windows RT devices, but it also has media keys that any device can use. Microsoft doesn't say how long the keyboard lasts, only that the keyboard uses 2 AA batteries.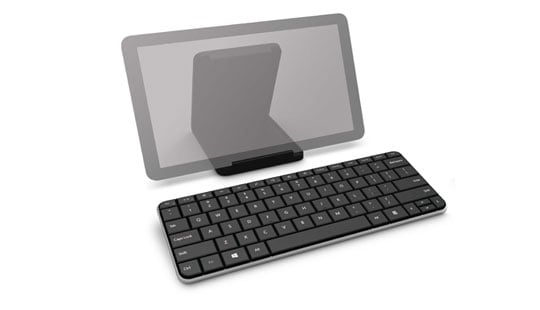 The other new Microsoft mobile devices is the Microsoft Wedge Touch Mouse. The Wedge Touch Mouse is, as the name mostly implies, a small wedge-shaped mouse that's designed for mobile use. The Wedge Touch Mouse is Microsoft's smallest mouse ever, which makes it perfect for devices like the Surface, though it also works with Android tablets.
The Wedge Touch Mouse uses "BlueTrack Technology" to track on any surface, even glass. Users don't need to worry about where they set down to work with this mouse. Because the entire surface is touch-sensitive, the Wedge Touch Mouse has quick four-way scrolling with just one finger.
Both new devices look like great companions for the Microsoft Surface for users who don't want to use the Touch Cover or the Type Cover, both or which turn the device into a more traditional laptop.
The Wedge Mobile Keyboard sells for $79.95, while the Wedge Touch Mouse wells for $69.95. Both are "coming soon."