Microsoft Office for iPad and Android Launching in November?
Microsoft Office for iPad and Android is greatly anticipated, and a new rumor says we may finally see it this year.
When the The Daily reported that Microsoft planned to launch Microsoft Office for iPad and for Android, Microsoft denied it.
Now, the sometimes wildly speculative, Boy Genius Report claims Microsoft Office for iPad will arrive in November.
I hope this time the rumor is true.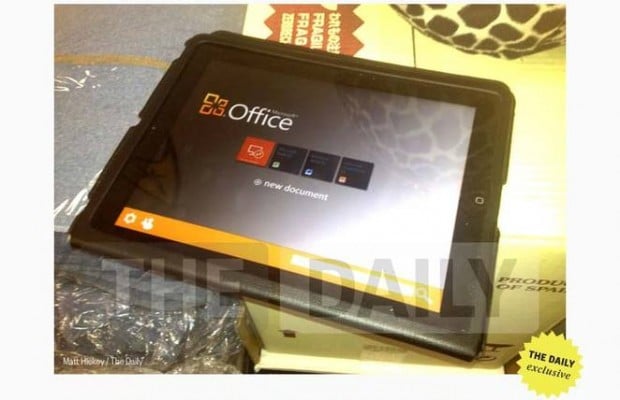 More users choose the iPad as a tablet computing than any other platform. The iPad has shifted Apple to the top of the personal computer market, and an Office iPad app would provide Microsoft with a large customer base who already use Microsoft Office software on a desktop or laptop in both Windows and Mac
The iPad dominates the mobile tablet market just like Microsoft Office dominates the office suite market. I'd personally love the ability to save my files, written in Word, on Skydrive and open them up in a Word for iPad that linked to Microsoft's online storage site. This would cut out my need for SugarSync to sync my Office files.
Microsoft Office for iPad would end or limit the need for Onlive Desktop and CloudOn Desktop ,both of which provide a virtual Windows environment so with full versions of Office on the iPad. The move would also fend off the flow of people switching from Microsoft Office to Apple's iWork for iPad users or Google Docs for Android users. Many made this switch to gain better integration with mobile apps. Check out the current Office for iPad experience using CloudOn in the video below.
Even though Microsoft Office for iPad and Android makes sense for users and would deliver a financial benefit to Microsoft, don't get too excited. Microsoft isn't known for making the best user experience decisions. It's likely that Micorosoft will use the company's dominance in the office suite market to push Windows 8 tablets and Windows Phone 8 devices, much like Apple and Google do with their respective products.
I'd really like to see Office for iPad launch in November, but I'm not putting a lot of stock in Boy Genius Report's "anonymous source".
While we wait for Office for iPad to launch, check out these 5 Office for iPad Alternatives.