Microsoft: Pen Support for Adobe Now Available for Surface Pro Tablet
Wacom drivers for the Surface Pro tablet running Windows 8 Pro are now available to allow the slate to support the pressure-sensitive active digitizer when used with Adobe's software suite, including Photoshop. The move should appease early adopters and help to expand the appeal of the Surface Pro to creative and professional users who need to create content and edit photos on the tablet. This would help Microsoft differentiate its tablet from the popular Apple iPad and plethora of Android tablets, none of which support the full version of Adobe's Creative Suite nor Photoshop software.
Microsoft had turned to Twitter to announce that it was working with Wacom to bring pen support via appropriate drivers to the Surface Pro soon, but a date was not set. According to ZDNet, it appears that the company is almost ready, and as late as May 9, said that the drivers, currently in beta, would be released soon. However, it looks like Wacom has already posted the drivers on its webpage, according to updated news from the publication.
Wacom has what appears to be a new Windows 8 Wacom driver — which may or may not be the one Panay referenced — posted for download on its site. (Thanks for the link @dan_tower.) Just choose "Windows 8″ as the operating system in the drop down and you'll see"TABLET PC – Enhanced Tablet Driver 7.1.1-12," dated May 9. I've asked Microsoft officials if this is the Wacom driver for Surface Pro. No word back so far.
This is good news for digital artists who would need to use the active digitizer with the Adobe suite.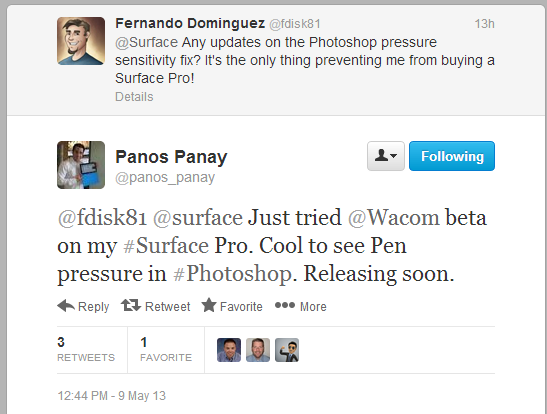 Microsoft's main competitor in this space is Samsung, which is also relying on Wacom's active digitizing technology on its Android-powered Galaxy Note series tablets and phablets. However, unlike the Surface Pro, which runs the full desktop Windows 8 operating system, the Galaxy Note series does not have access to the full desktop edition of Adobe's Creative Suite. Samsung also makes the Windows 8-powered ATIV Smart PC family of tablets as well that relies on Wacom technology.

As an Amazon Associate I earn from qualifying purchases.