Microsoft SkyDrive App Arrives on Android
Microsoft's cloud service is finally available on Android with the release of the official SkyDrive app for Android.
The new SkyDrive app is free in the Google Play Store and lets Android users access any file in their cloud storage from their smartphone or tablet. With the app Android users can view all the documents, photos, and videos they stored on Microsoft's cloud system. Like other cloud storage apps, SkyDrive also lets Android users automatically upload all photos and video to the cloud.
Unfortunately, while SkyDrive lets users views their Word, Excel, and Powerpoint documents, the app won't edit those files. Users can, however, open those documents in other apps if they wish to edit them on their devices. That's no substitute for Office for Android, but it's as close as we have at the moment.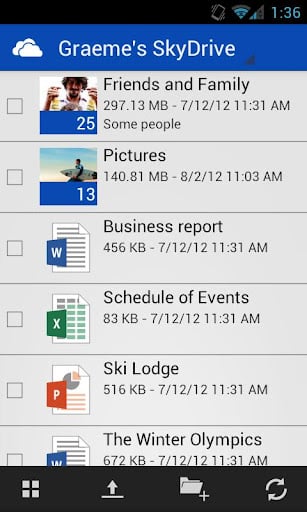 The SkyDrive app also lets users share documents via email or other apps easily. The app creates a link to the files in the cloud and users can send that link to anybody.
Microsoft's app doesn't offer too many features over other apps like Dropbox, except that it integrates well with the upcoming Windows 8. That integration will make the SkyDrive app very useful for users who upgrade to Windows 8 and the new Microsoft Office 2013 which automatically saves documents to the service.
SkyDrive does look nicer than a lot of other cloud storage apps. Microsoft's Metro Windows 8-style design meshes well with the Holo theme of Android 4.0 and above.

As an Amazon Associate I earn from qualifying purchases.