Microsoft SmartGlass Links Xbox 360 With Smartphones and Windows 8
Microsoft wants to let users control their Xbox and get more out of their media with smartphones and tablets through its new Xbox SmartGlass technology.
Microsoft's Xbox SmartGlass seems similar to Apple's AirPlay at first: it lets users watch movies or TV shows on their Windows Phone or Windows 8 tablet and push it to the Xbox 360 easily. However, after users push that media to the Xbox 360 the other devices display more information for the media that's playing.
While pushing media between devices is only for Windows Phone and Windows 8, other features will be available on iOS and Android. According to Kotaku, users will be able to download an Xbox Live Companion app for iOS and Android that will let them control the console from their mobile devices.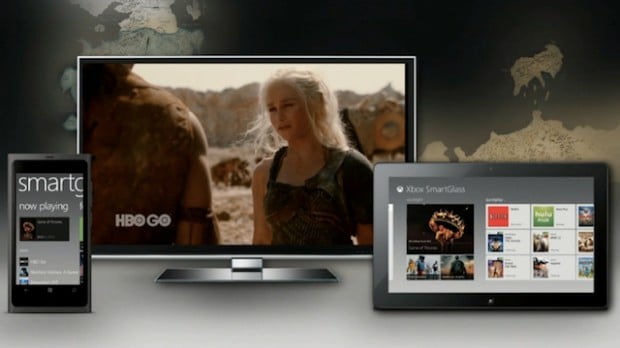 During the E3 presentation Microsoft showed the app displaying an interactive map of Westeros while Game of Thrones played on the Xbox 360 through HBO Go. The map showed users where each character was at that point in the story, so they can see where Jon Snow is beyond The Wall while Tyrion Lannister is plotting in King's Landing.
Other examples included a version of the app that would let users create plays in Madden or view stats in Halo 4.
Xbox SmartGlass will also bring Internet Explorer to the Xbox 360. Users control the web browser entirely from the smartphone app. Microsoft used a Nokia Lumia 900 to control the browser on stage. The smartphone will act as the touchpad and keyboard for the browser so users don't need to use the thumbsticks on the controller to control it. The app will let users easily zoom in by double-tapping or pinching, just like a mobile browser. The browser look just like the Metro version in Windows 8.
Microsoft's Xbox SmartGlass will come to Xbox 360, Windows Phone, Windows 8, iOS, and Android later this year.

As an Amazon Associate I earn from qualifying purchases.